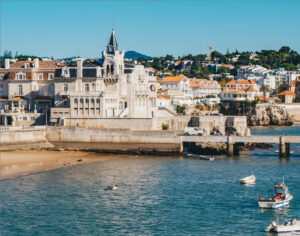 Compare rental cars and renting of a vehicle from several companies in the town, Cascais in Portugal. We compare large companies as well as small and find the best price for all types of cars.
We have an easy and safe online booking of rental cars. Car hire where every cost is included, no hidden fees and free cancellations/amendments up to 24 hours before you are supposed to pick up the car. Search and choose destination, search for country, city etc. and choose from the list. Rental cars at Cascais's train stations (Monte Estoril, Estoril, Sao Joao do Estoril, Sao Pedro do Estoril and Parede) travel centre and airports like Lisbon Cascais-Tejo Airport, Lisbon-Portela Airport and Alverca Airport, CAT and ports/ferry terminals like Marina de Cascais. We compare these companies in Cascais or in Lisbon, Fast & Dangerous on Rua Santana 1922, Guerin on Avenida 25 de Abril N 850 C, Echo Rent on Loja N511 Rua Melo e Sousa 253 Estoril, Avis Estoril on Estação Cp Tamariz Estoril, Transrent & Moto on Av Marginal 9348 Bloco B Centro C Cisne Loja 15, Real Trios Executivo on Rua Fernão Mendes Pinto 187 Alcabideche, Ausocar Estoril on Avenida Fausto de Figueiredo 279, Europcar on Av Marginal Bl B Centro Comercial Cisne Lj 4 5, Hertz on Abuxarda Estrada da Ribeira N 1380 Alcabideche, Guerin on Avenida 25 de Abril 850c.
About the town Cascais (Cascaes), located in the Cascais Municipality part, Lisbon district, Portugal. 11th largest town/city when it comes to inhabitants in the region and the 34th largest town/district in Portugal. Larger neighbouring cities/communities are Lisbon (c. 517800 pop), Amadora (c. 178900 pop) and Setúbal (c. 117100 pop). The community and town is about 20 meters above sea level. Smaller communities, villages and suburbs nearby are Póvoa de Santo Adrião, Costa de Caparica, Samora Correia, Porto Salvo, Alhos Vedros, Beato António, Mafra, Albatroz, Santa Marta, Monte Estoril, Guia and Costa do Estoril. Read more about what the town has to offer when it comes to experiences and which companies are located in Cascais Municipality and the country. About 36 400 (2015) inhabitants live in the town. We also give tips on which companies offer rental cars in Cascais Municipality.
Are you staying for a long time in Cascais? Some suggestions and tips on museums, activities, events, attractions, experiences, destinations and places that are worth a visit during your trip to the town. Markets such as Market of São Domingos de Rana and Market Vila Cascais are located nearby. Fascinating parks and gardens in the central parts of the city are Park Carlos Anjos and Park Estoril. Parque Marechal Carmona, Parque Urbano Penhas do Marmeleiro and Park Palmela are relaxing green areas, park and plantings if you want to relax and have a picnic on the grass. Are you going on a golf trip and looking for golf courses? The golf courses, Oitavos Dunes 4 km, Estoril Palace Golf Course 3 km, Quinta da Marinha Golf 3 km, Oeiras Golf 12 km and Pestana Sintra Golf 9 km, are located close to the city.
Nearby destinations, Cascais
Find the best car hire and cheapest car rental in airports nearby: Cheap Hire Cars Cascais-Tejo Airport, Car Hire Lisbon-Portela Airport, Hire a Car Cheap Alverca Airport and Sines Airport. Rent a car in cities in the region: Cheapest Hire Cars Lisbon, Car Hire Amadora, Cheap Car Hire Queluz, Cacém and Algueirão.
Car rental companies in Cascais, Portugal
Avis, Hertz, Europcar, Budget, Sixt, Thrifty, National, Enterprise and Alamo are the companies we compare in the city and in the region to find the best price. You can usually find the largest selection at airports such as Cascais-Tejo Lisbon Tires Airport, Lisbon Humberto Delgado Portela de Sacavém Airport and Alverca Airbase. The large companies usually have offices adjacent to the airport.
Car Hire & Rent a Car Cascais Customer Reviews & Feedback