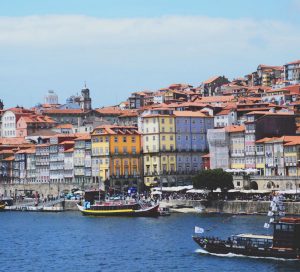 Find the best prices for rental cars online. Comparing prices online can be very profitable, many smaller companies can otherwise only be booked on site. Comparison of rental cars and car hires from several businesses in the city of Porto, Portugal.
We have an easy and safe online booking of rental cars. Car hire where every cost is included, no hidden fees and free cancellations/amendments up to 24 hours before you are supposed to pick up the car. Search and choose destination, search for country, city etc. and choose from the list. Rental cars at Porto's train stations (Porto-Trindade, Estação de São Bento, Alfândega, Campanhã Railway Station and Estação das Devesas) travel centre and airports like Porto Airport, Braga Airport and Vila Real Airport, OPO and ferry terminals and ports (Marina do Freixo, Marina da Afurada). to find the best price, we compare the following companies; Avis on Estacao Caminhos de Ferro, Rentcarcity on Rua de Santa Catarina 742, Auto Mombaka on Avenida da República 341, Europcar on Rua António Bessa Leite 1478, Rent Tt 3ways on Avenida Gustavo Eiffel 290, Realcar Bluealliance on Rua da Paz 66, First Rent on Rua de Pinto Bessa 550, Turisrent on Rua de Santa Catarina 1014, Roditur on Rua do Doutor Alfredo Magalhães 114, Turisrent on 1 Rua de Santa Catarina 275, Guerin Passos Manuel on Rua de Passos Manuel 176, Hertz on Rua de Santa Catarina 899, Option on Rua da Constituição 349, Rent A Bike Ebike & Scooter Tt3ways on Avenida Gustavo Eiffel 290, Sado Rent on Rua do Campo Lindo, Europcar Campanha Rrs on Lg da Estacao dos Caminhos de Ferro, Mitrent on Rua Doutor Ribeiro de Magalhães 212, Glassdrive Santos Pousada on Rua de Santos Pousada 343.
Porto (Oporto) is located in the municipality Porto Municipality, Porto district, Portugal and is a city. It is the county seat in the region. It is the 1th largest town/city when it comes to inhabitants in the region and the 2th largest city/district in Portugal. Are you planning to stay for a long period and spend your holiday here? Then there are many things to do and experience. With about 249 600 (2015) inhabitants. Larger surrounding cities/communities are Braga (c. 121400 pop), Vila Nova de Gaia (c. 70800 pop) and Felgueiras (c. 58100 pop). Gafanha da Nazaré, Vilar do Paraíso, Valbom, Arcozelo, Canelas, Regadas, Massarelos, Bandeira, Godim and Ameal are smaller suburbs, villages and communities nearby. The community and town is about 97 meters above sea level. Nearby bus stops and bus stations are Parque das Camélias bus station and taxi station, General Torres, Terminal Alsa and Porto Airport Bus Station. These metro (subway) stations are located in the city Aliados, Guilherme Gomes Fernandes, São Bento and Restauração. There are also car rental companies like Parcours on Rua António Bessa Leite 1204, Greenbus on Rua Aleixo da Mota 86 Entrada B, Hertz Ramalde on Rua Eng Ferreira Dias 807, Avis on Avenida da Boavista 918, Europcar on Avenida da República 1435, Sixt on Avenida da Boavista 1203, Metrorent on Rua Abade Correia da Serra 54, Madlobos on Rua de Santa Catarina 672, Plurirent on Rua Conde Covilhã 1637, Ecodrive Solutions on Rua do Doutor Alfredo Magalhães 114, Turiscar Gaia on Rua de Soares dos Reis 1192, Atlanstisrent on Rua de Santa Catarina 1020, Turiscar on Rua de 5 de Outubro 412, Rau Drive on Rua Engenheiro Ferreira Dias 161, First Rent on Estrada da Circunvalação 10686 Senhora da Hora etc. Find out more about the car hire companies in Porto Municipality.
A few suggestions on events, attractions, museums, activities, experiences, places and destinations in Porto which are worth a visit during your holiday in the city. to see and experience sport, tennis etc. make a visit to an athletic field such as Complexo Fernando Pedrosa, Clube de Ténis do Porto, Lawn Tennis Club, Atlético Clube Alfenense, Stadium Universitário Prof. Dr. Jayme Rios Souza and Clube de Ténis de Ermesinde. Stadium Mar, Rio Tinto Sport Club, Stadium Dragao, Municipal Stadium Jorge Sampaio, Pavilhão Rosa Mota, Stadium Municipal Professor Doutor José Vieira de Carvalho, Stadium Leça do Balio, Stadium Bessa and Stadium São Miguel are located nearby if you want to watch sports or go to a concert. to experience and watch exciting history and archaeology, visit these nearby places, Antiga Estação Ferroviária da Senhora da Hora, Ribeira, Muralha (walls) Fernandina, Old Monastery of Lóios de Oliveira do Douro, Antigo Asilo de Mendicidade do Porto, Antiga Quinta Dona Rosinha, Muralha (walls) Primitiva and Medieval Tower of Porto. Keen on seeing ancient relics, older buildings, antiquities and cultural heritage? These places, Antigo Velódromo Rainha D. Amélia and Archaeological Site of Castro do Monte Murado, could be worth a visit. Gardens that are worth a visit and are located in the town centre are Garden of Virtudes, Park Arca d'Água, Park Roseiral, Garden of Praça Rainha Dona Amélia and Garden of Cordoaria. Get an overview of the whole city at Miradouro do Estuário do Douro, Miradouro das Fontainhas, Miradouro – Elevador da Lada, Miradouro da Serra do Pilar and Miradouro da Boa Nova which are located within walking distance from the town centre. Fascinating and fine plantings, green areas and parks that are located in the city are Park São Roque, Park Sobreiras, Park Cedro, Garden of Palace of Cristal do Porto and Park São Lázaro.
Find the best car hire and cheapest car rental in airports nearby
Find the best car hire and cheapest car rental in airports nearby: Cheapest Car Hire Porto Airport, Cheapest Hire Cars Viseu Airport and Cheap car rental Vila Real Airport. Cheap Convertible Car Rentals in Porto.
Car rental companies in Porto, Portugal
Key and Go, Dollar, Orbita, Hertz, Autatlantis, Wayzor, Hertz Dream Collection, Payless, CAEL, Yor Car, Auto Turistica, MadeiraRent, Angrauto, Rodavante, Yes Car Hire, OPORent, Best Deal, Rhodium, Avis, Keddy By Europcar, Autocunha, Guerin, Turisprime, Turiscar, Sixt, Drive4Less, 296 Rentacar, Ilha Verde, Drive & Go, Flizzr, Europcar, Drive on Holidays, Micauto, Centauro, Enterprise, Surprice, Zitauto, Autoclick, Thrifty, Firefly, Varela Rent a Car, AirAuto, National, Rent a Star, 2Rent, Discovery, Auto Rent, InsularCar, Goldcar, Budget, Alamo, BENErent, SadoRent a car, Bravacar and InterRent are the companies we compare in the city/country. You can usually find the largest selection at airports such as Porto Francisco Sá Carneiro Airport, Viseu Gonçalves Lobato Airport, Vila Real Douro Airport and Braga-Palmeira Airport. The large companies usually have offices adjacent to the airport.
Car Hire & Rent a Car Porto Customer Reviews & Feedback