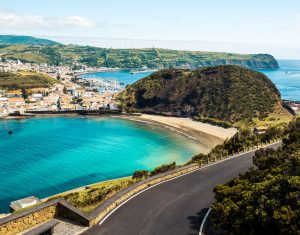 It always pays off to compare before you book, especially on rental cars. The price can differ very much between different companies. At autoportugal.co.uk you can compare prices on rental cars and car hire from several companies on the island Faial, Portugal. Find the best prices for rental cars online. Closest cities are Angústias, Castelo Branco, Cais do Pico, Horta and Ribeira Grande.
When you are looking for a rental car on the island, autoportugal.co.uk compares, for example, these companies: Europcar, Bravacar, Dollar, 2Rent, Thrifty, BENErent, Drive & Go, Centauro, Autoclick, Firefly, Alamo, Ilha Verde, Rent a Star, Varela Rent a Car, Goldcar, AirAuto, Drive on Holidays, Zitauto, Sixt, Yes Car Hire, Autocunha, Drive4Less, CAEL, OPORent, Budget, Keddy By Europcar, National, Autatlantis, 296 Rentacar, Hertz Dream Collection, InsularCar, Auto Turistica, Turiscar, Auto Rent, Enterprise, InterRent, Guerin, Rodavante, Rhodium, Flizzr, MadeiraRent, Best Deal, Surprice, Avis, Discovery, Orbita, Turisprime, Hertz, Payless, Micauto, Angrauto, SadoRent a car. Car rental where every cost is included, no hidden fees and free cancellations/amendments up to 24 hours before you are supposed to pick up the car. Easy and safe online booking of rental cars. Rental cars at Faial's ferry terminals and ports (Port of Horta, Porto Pim, Port of Madalena and Porto do Comprido), travel centres, train stations and airports (Horta Airport, São Jorge Airport and Pico Airport). Choose between different locations where to pick up your car. You can rent through us where the companies have their offices. Drive at your own pace without stress if you are planning a tour of the island. Compare the number of days you want, week, weekend, rent for a day, a year, a whole month or a long-term.
About Faial (Faial, Fayal Island), which is an island in the Horta Municipality part, in the Azores region, Portugal and has about 14 900 inhabitants. Small villages, towns and suburbs that are close by are Angústias, Castelo Branco, Cais do Pico, Horta and Ribeira Grande. Other names for this island can be Ilha do Faial. Use the search box to find the pick-up place you want. Are you looking for more things to do on your vacation? You will find more info under each city on the island. Pico Island, São Jorge Island, Flores, Corvo Island, Terceira Island, Graciosa, Ilhéu dos Abroes, Ilhéu da Praia, Ilhéu do Topo, Ilhéu Alagoa and Ilhéu do Pão de Açúcar, etc., are large and small islands located nearby. Are you planning to take the ferry to other islands (Island Crossings)? Few car rental companies allow you to bring your rental car. Read more in the rental terms when booking.Horta (c. 6600 pop), Madalena (c. 6100 pop) and Ribeira Grande (c. 5200 pop) are cities and communities close by or on the island.
Tips and suggestions on places, attractions, experiences and tips on destinations you can visit during your stay on Faial. do you want to try some wine? Vineyards on or close to the island are Cooperativa Vitivinicola da Ilha do Pico and Azores Wine Company. Praia do Porto Pim and Praia do Almoxarife are beaches that are close by if you want to relax, swim and sun bathe. Monte da Guia and Panoramic Viewpoint of Espalamaca are viewpoints around the island. Close by there are volcanoes such as Vulcão dos Capelinhos. Caves we recommend a visit to are Gruta das Torres. Mount Pico and Piquinho are among the highest mountains near or on the island. Cabeço Gordo and Tambroso are among the highest mountain peaks on the island.
Destinations on Faial
Find the best car hire and cheapest car rental in airports nearby: Cheapest Car Hire Horta Airport, Cheapest Hire Cars Pico Airport, Cheap car rental São Jorge Airport and Graciosa Airport. Find the cheapest car rental & best car hire in nearby cities: Rental Cars Horta, Compare Rental Cars Madalena, Cheap Car Hire Velas, Santa Cruz da Graciosa and Praia da Graciosa. Cheap Convertible Car Rentals in Faial. Rent a car on islands nearby: Hire a Car Terceira, Cheap Hire Cars Pico, Rent a Car São Jorge, Graciosa and Flores.
Car hire companies we compare on Faial, Portugal
Avis, Hertz, Europcar, Budget, Sixt, Thrifty, National, Enterprise, Alamo, Dollar, Keddy By Europcar, InterRent, Payless, Firefly, Flizzr, Surprice, Goldcar, Rhodium, Hertz Dream Collection and Autoclick are the companies we compare on Faial.
Car Hire & Rent a Car Faial Customer Reviews & Feedback