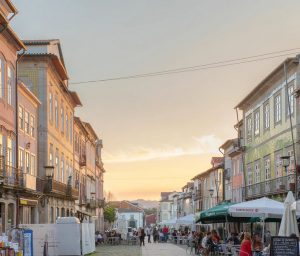 Find the best prices for rental cars online. Comparing prices online can be very profitable, many smaller companies can otherwise only be booked on site. Comparison of rental cars and car hires from several businesses in the city of Braga, Portugal.
Easy and safe online booking for rental cars. Search for a city, airport etc. and choose a pick up location. The search will look for all types of models. Rental cars are available at Braga's travel centre, train stations (Braga, Carreira, Barcelos and Mouquim) and airports like Braga Airport, Porto Airport and Vila Real Airport, BGZ. Car hire where every cost is included, no hidden fees and free cancellations/amendments up to 24 hours before you pick up the car. to find the best price we compare following companies Hertz on Rua Conselheiro Lobato 67, Turiscar on Rua Conselheiro Lobato 193, Bragamal on Rua Dom Pedro V 111, Europcar on Rua Cónego Luciano Afonso dos Santos 37 37, JAP on Avenida Cidade do 78, First Rent Trade on Sequeira, Realcar Bluealliance on Rua de Caires 207, Bragarent on Rua da Cruz da Pedra 96, C S V Comérc e Serv de Viaturas on Rua Conselheiro Lobato 461, Mais Rent A Sua on R Damiana Maria Silva Lote 7 Piso 1 Ferreiros, SÓ Barroso Rent on Avenida Frei Bartolomeu dos Mártires 74 4715 385, S C Castro Unip Lda on Rua Gabriel Pereira de Castro 16, Avis on Rua de Caires N274 Rc Maximinos, Change Now on Avenida Cidade do 123, Sérgio Brites Ribeiro Sociedade on Rua de São Barnabé 33, Guerin on Rua Conselheiro Lobato N 81, SÓ Barroso Used Cars on Rua José António Cruz 41 in Braga.
Braga is a city in the municipality, Braga Municipality, Braga district, Portugal. It is the county seat in the region. 1th largest city/town when it comes to inhabitants in the region and the 4th largest district/town in Portugal. Larger surrounding cities/communities are Porto (c. 249600 pop), Vila Nova de Gaia (c. 70800 pop) and Felgueiras (c. 58100 pop). Regardless of how long you are staying the city there are things to experience and do. Located about 188 m above sea level. Vilar do Paraíso, Valbom, Arcozelo, Canelas, Valenza, Santo Tirso, Moreira, Santa Tecla, Bairro Novo, Areal de Baixo and Ponte Falcão are small villages, suburbs and communities nearby. The population of the city is about 121 400 in 2015. Bus stations and bus stops in the city are Travel center and bus station and taxi in Braga. We also give tips on which companies offer rental cars in Braga Municipality.
Suggestions and tips on what to do in the city Braga, attractions, places, events, museums, experiences, activities and tips on destinations to visit during your stay. If you crave activities and experiences and want to visit e.g. water parks, amusement parks or theme parks you can visit Parque Aquático de Fafe. Watching sports or exercising? Athletic fields close to the city are Clube de Ténis de Braga and Piscina Municipal das Parretas. Want to watch a game or sports, maybe go to a concert? Close to the city are Axa Stadium and Stadium Primeiro de Maio Braga. Maybe see a local game of football? Want to spend a day shopping? Minho Center, Nova Arcada, Centro Comercial Passerelle and Braga Parque are located within walking distance.
Vineyard and wine producers that are close by are Campelo, Q. L. Portugal and Casa Agrícola Compostela. Central race tracks and motor stadiums for horse racing and harness racing etc. are Circuito de Braga and Vasco Sameiro Circuit. Arco de Santiago and Arco da Porta Nova are old arches and arcs that are worth a visit. Want to visit the local markets? Make a stop at Market Municipal.
Music, plays and shows in the town centre? We recommend Theater Circo de Braga. Located within walking distance. Monument to the Papa João Paulo II, Monument to the Vias Romanas, Fonte do Campo das Hortas, Fountain of Praça da República and Monument Gomes da Costa are exciting statues and monuments of famous people and events. Notable squares or large open spaces that are close by, Largo do Paço, Praça da República, Praça Mouzinho de Albuquerque, Praça do Município and Largo de Santiago. Garden of Avenida Central, Garden of Casa dos Biscaínhos and Garden of Santa Barbara are located within a walking distance if you want to enjoy and experience a botanical garden. Fascinating and fine plantings, green areas and parks that are located in the city are Park Ponte, Park Barral and Park Monte do Picoto. Interesting cathedrals or churches that are close by are Church of São João do Souto, Church of Penha, Arcada da Lapa and Basilica of the Congregados.
If you want to visit a museum you can choose between Edifício do Castelo, Museum of archeology D. Diogo de Sousa, Museum of Biscainhos, Museum Pio XII, Museum Nogueira da Silva, Convento das Convertidas, Gallery and art gallery of Arcebispos, Museum of Imagem and Populu, which are within a walking distance from the town centre. Old Palace Arquiepiscopal, Sete Fontes and Fountain Ídolo are close by if you are interested in the exciting history and archaeology of the area. Citânia de Briteiros, Monastery of Dumio and Roman Baths Maximinos have fascinating antiquities, older buildings, ancient relics and cultural heritage near the city. Golf trip and need to rent a car? Clube Golfe Braga 4 km are some golf courses that are close to the community. Palace of Raio, Paços do Concelho de Braga and Casa dos Biscainhos are magnificent and interesting buildings, villas and palaces close to the centre of Braga. In the town centre there are new as well as old interesting castles to look at, such as Castelo de (Castle) Guimarães and Castelo de (Castle) Braga.
Car hire in airports nearby
Car hire in airports nearby: Car Rental Porto Airport, Vila Real Airport and Chaves Airport.
Car rental companies in Braga, Portugal
To find the best price we compare following companies Drive4Less, Autatlantis, InterRent, MadeiraRent, Rent a Star, Centauro, BENErent, Yor Car, Avis, Turiscar, Auto Turistica, SadoRent a car, Yes Car Hire, OPORent, Discovery, Flizzr, Bravacar, Sixt, Autocunha, InsularCar, Varela Rent a Car, Turisprime, Enterprise, Firefly, 296 Rentacar, Keddy By Europcar, Drive & Go, 2Rent, Guerin, Europcar, Thrifty, Drive on Holidays, Goldcar, Alamo, Zitauto, National, Autoclick, Hertz, Rodavante, Auto Rent, Rhodium, AirAuto, Payless, Surprice, Best Deal, Micauto, Ilha Verde, Dollar, Angrauto, Hertz Dream Collection, CAEL, Budget and Orbita in Braga. You can usually find the largest selection at airports such as Porto Francisco Sá Carneiro Airport, Vila Real Douro Airport and Chaves Airport. The large companies usually have offices adjacent to the airport.
Car Hire & Rent a Car Braga Customer Reviews & Feedback