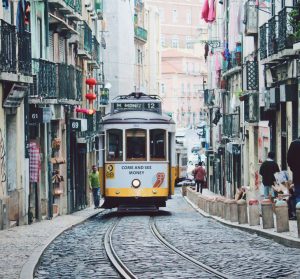 We have easy and safe online booking for rental cars. Look for rental cars that you can pick up at Lisbon-Portela Airport. In the search box you can search for the location you want and choose from the list. Car hire, where every cost is included, no hidden fees and free cancellations/amendments up to 24 hours before you are supposed to pick up the car.
Large and safe or small and cheap? It pays off to compare before you book. Here you can compare rental cars and vehicle rent from several companies at Lisbon-Portela Airport in Lisbon, Portugal. Closest communities are Charneca 1 km, Prior Velho 2 km, Camarate 3 km, Sacavém 3 km and Olivais 3 km. Autoportugal.co.uk lists prices from companies that are safe and quality assured so that there will be no problems when you want to pick your car up. Airport code is IATA: LIS and ICAO: LPPT. We at autoportugal.co.uk compare these companies in Portugal, Hertz on Avenida Severiano Falcão N7 7a Prior Velho, Moor Viagens on Estrada do Forte da Ameixoeira, Auto Jardim on Edifício Auto Jardim Rua Severiano Falcão 2 Prior Velho, Guérin on Avenida Severiano Falcão 3 Prior Velho, Finlog Delegação Sul on Avenida Severiano Falcão 3 Loures, Gorent on Rua Francisco Salgado Zenha Edificio Tejo Prior Velho, Hire Car 4 Less on Avenida Berlim Loja 38a, Turisprime on Rua 1 de Maio 9 Figo Maduro Loures, Cael on Rua 25 de Abril 2 Prior Velho, Europcar Prior Velho on Avenida Marechal Gomes da Costa 19, Interrent Aeroporto Olivais on Rua Francisco Salgado Zenha Lote 1 2 Prior Velho, Budget, Aluvia on Rua Professor Henrique de Barros 26 Prior Velho Loures, Sado Rent on Rua Mártires de Timor Edifício Sadorent Figo Maduro Prior Velho, Europcar on Aeroporto, JAP on Avenida Severiano Falcão 2, Drive On Holidays on 312 Rua Fernando Namora 10, Avis. Compare long-term rental for one day, one year, a whole month, week, weekend, or for as many days as you wish. Collect the car in one place and return it somewhere else, e.g. another city or country. It is possible to rent a car for one way, called the one way rental. Fullsize, premium, economy, mini, suv, jeep, 9 seat minivan, minibus, standard, compact, intermediate, moped, minivan, cargo van, luxury, 7 seat minivan, 5 seat minivan, convertible, estate and automatic transmission cars are car types and models that autoportugal.co.uk can compare prices on.
About Lisbon-Portela Airport (Portela Airport, Lisbon Humberto Delgado Airport, Lisbon Airport) information, facts and data. The airport is in the municipality of Lisbon Municipality, in the Lisbon district, in Portugal. Closest big cities and communities are Lisbon 7 km (c. 517800 pop), Amadora 9 km (c. 178900 pop), Setúbal 36 km (c. 117100 pop), Queluz 11 km (c. 103400 pop), Cacém 14 km (c. 94000 pop) and Algueirão 18 km (c. 66300 pop). The airport is located above sea level by 374 feet/114 meters. Other names for this airport could be Lisbon Airport, Portela Airport, Aeroporto da Portela de Sacavém, Lisbon Humberto Delgado Airport, Aeroporto Humberto Delgado, Aeroporto da Portela. Other nearby airports are Alverca Airport and Lisbon Cascais-Tejo Airport. Closest train stations are Moscavide, Sacavem, Lisbon Orient Station and Entrecampos. If you plan to continue travelling, or arrive by train, all are within 4 km. Lodging and hotels that are close to the airport are, e.g. Holiday Inn Express Lisbon Airport, Tryp Lisboa Aeroporto, Holiday Inn Express Lisboa Aeroporto and Tryp Lisboa Airport. All hotels are within 3 km from the terminals. Buses? These stations and stops for buses are located at the airport Terminal Aeroporto Lisboa, Oriente, Bus station and taxi station in Sete Rios and Alverca.
You will find accurate information about where to pick up and/or return your car on your order/voucher. All rental car companies have their own offices where you pick up keys etc. If you are planning or will be flying to, or from and use Lisbon-Portela Airport, you will find information about the airport, maps, contact information and the weather here. Tax-free shopping? In the airport and nearby are e.g. Centro Comercial Chapim, Centro Comercial da Portela, IKEA Loures and Strada Outlet. They are only a walk from the terminal. Metro Aeroporto Lisboa, Encarnação, Moscavide, Olivais and Campo Grande are subway (metro) stations near the airport. Nearby there are also car rental companies like Good Rent on Avenida do Brasil 92c, Amoita Airport on Rua João Cunha Serra 33a, Valter Duarte on Rua Escolas 31, Europcar Downtown Campo Grande on Pq Empark Avenida Marechal Craveiro Lopes S N, 4rent on Rua Reinaldo Ferreira 19a, Sixt on Alameda das Com Portuguesas, Guerin Aeroporto on Aeroporto Internacional, Goldcar on Alameda das Comunidades Portuguesas, We Rent on Rua 1 de Maio 7 Prior Velho, Ride On e Animação Turística on Rua Reinaldo Ferreira 29, Sixt on Avenida Severiano Falcão 2 Prior Velho, Turiscar on Avenida Severiano Falcão 9, Freixo on Avenida de Roma 125 Loja B, First Rent Trade on N 27 Rua José Travassos, Hertz on Alameda das Comunidades Portuguesas, ACE on Alameda das Comunidades Portuguesas, Guerin on Olivais, Sflife on Rua Alberto Macbride N5.
Car hire companies and car rental at Lisbon Humberto Delgado Portela de Sacavém Airport (LIS), Portugal
When you are looking for rental cars, we compare these companies National, Best Deal, Autocunha, Auto Rent, Thrifty, Avis, Payless, Alamo, Angrauto, Budget, AirAuto, Zitauto, Yes Car Hire, Dollar, Yor Car, Sixt, Hertz, Drive & Go, Varela Rent a Car, MadeiraRent, Keddy By Europcar, SadoRent a car, Turisprime, BENErent, InterRent, Rodavante, Bravacar, Ilha Verde, Drive4Less, CAEL, OPORent, Centauro, Turiscar, Flizzr, Hertz Dream Collection, Rent a Star, Micauto, InsularCar, Surprice, Drive on Holidays, Rhodium, 296 Rentacar, Guerin, Europcar, Auto Turistica, Goldcar, Orbita, 2Rent, Autoclick, Autatlantis, Enterprise, Discovery and Firefly at autoportugal.co.uk, all with offices in Portugal.
Car Hire & Rent a Car Lisbon Humberto Delgado Portela de Sacavém Airport Customer Reviews & Feedback