Algarve is one of the most beautiful regions in Portugal. Home to quintessential countryside and deep blue crystal clear oceans, mirror-like dams, majestic mountains, and the famous Algarve coastline, the best way to explore this region is by renting a car and checking out the scenic roads. Being on the road in Algarve means you get to explore rustic villages that remain untouched by time, historical relics, dams, and many beautiful spots. And you get to do all of this from the comfort of your own vehicle.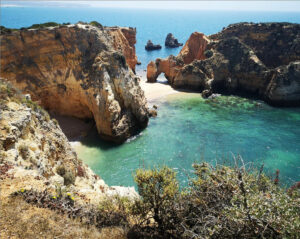 The easiest way to go on a driving tour of the Algarve region is to have a rent a car along. This will make it easy for you to manoeuvrer from one scenic route to the next. Many car hire companies operate in Algarve, including Car Rental Algarve, Car Rental Portugal, Storlet Car, Auto Green, Portugal Cars, Avis, Enterprise Rent-A-Car, and many others. You can ask your hotel concierge to compare car hire offers for you, or you can do a car hire comparison yourself by checking out the websites of these car hire companies.
Now that you have a cheap car hire in Algarve, here are the most scenic roads in the Algarve region to explore.
1. Land's End Route
This scenic route begins at Lagos's hip and trendy city and takes you to Cape St. Vincent. The trip is a 40-minute drive as you explore the 45-kilometer stretch. The vibrant town of Lagos is the eternal backpacker's paradise. You get to check out many unique monuments like the Lagos Slave Market and the Governor's Castle. The Ponta Da Piedade rock formation is one of the most breathtakingly beautiful spots here.
From Lagos, take the EN125 route and travel west towards Sagres. You get to pass by many charming villages on each side of the road, including Vila do Bispo, Burgau, and Praia da Luz.
As you head towards Cape St. Vincent, the lighthouse is a must-see destination as you pass by the beautiful Beliche beach on the way.
2. A Country Affair
Having a name like that, you know this trip will be worth your while. Starting from Silves and taking you to São Bartolomeu de Messines, this scenic drive is a smaller route of just 20 kilometres that takes 24 minutes to complete. The starting point of Silves is one of the most beautiful examples you will see of preserved castles in the entire Algarves region.
From Silves, you need to take the EN12 route to head towards São Bartolomeu de Messines. This scenic route takes you through amazing orange fields, pretty roadside bars and restaurants, and the Arade Dam. You can also see a part of an archaeological route as you take a turn towards Canhestros and Gregorios.
3. Eastern Algarve
The scenic views you pass through as you traverse the Eastern Algarve route on EN125 will be etched in your mind forever. Beginning from Tavira and taking you to Vila Real de Santo Antonia, the route takes 30 minutes to cover a distance of 29 kilometres. The EN125 will take you through the charming town of Tavira and Vila Real de Santo Antonia. You get to see some of the finest beaches in the Algarve region and the Ria Formosa-protected lagoon.