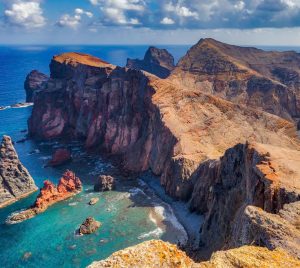 At autoportugal.co.uk you can compare prices on rental cars and car hire from several companies on the island Madeira, Portugal. Find the best prices for rental cars online. Closest towns are Curral das Freiras, Ribeira Brava, São Vicente, Canhas and Boaventura. It always pays off to compare before you book, especially on rental cars. The price can differ very much between different companies.
By car you can plan your own tour and visit the most popular attractions on the island. We have an easy and safe online booking of rental cars. Rent a car at Madeira's train stations, travel centres and airports such as Madeira Airport. Ports and ferry terminals that are close by are Port of Recreio de Machico, Porto Caniçal and Porto Santo Line. Book online and collect your car where ever you want, pick it up at the company's local office or at the airport. Easy car rental where every cost is included, no hidden fees and free cancellations/amendments up to 24 hours before you are supposed to pick up the car. to find the best price for a car on the island, autoportugal.co.uk compares, amongst others, the following companies Orbita, Hertz, Turisprime, 2Rent, Drive & Go, Angrauto, BENErent, Ilha Verde, Rent a Star, Europcar, Drive on Holidays, AirAuto, Thrifty, Keddy By Europcar, 296 Rentacar, Payless, Rhodium, Sixt, Varela Rent a Car, Zitauto, Centauro, Drive4Less, Rodavante, CAEL, InterRent, Goldcar, National, Flizzr, Auto Rent, Hertz Dream Collection, InsularCar, Autocunha, Autatlantis, Autoclick, OPORent, Guerin, Bravacar, Firefly, Enterprise, Yes Car Hire, Dollar, Auto Turistica, Avis, Best Deal, SadoRent a car, Discovery, Surprice, Micauto, MadeiraRent, Turiscar, Budget, Alamo. Compare car hire for a day, long term, one year, a whole month, week, weekend or for the number of days you wish.
Facts about Madeira. An island in the Madeira region in Portugal. The number of inhabitants is 238 900. Curral das Freiras, Ribeira Brava, São Vicente, Canhas and Boaventura are small towns, suburbs and villages that are close by. Use the search box to find the pick-up place you want on the island. Are you looking for more things to do on Madeira? You will find more info under each city on the island. Nearby cities/communities are e.g. Funchal (c. 100800 pop), Câmara de Lobos (c. 32200 pop), São Martinho (c. 26500 pop), Caniço (c. 23400 pop), Machico (c. 12600 pop), São Roque (c. 9400 pop), Santana (c. 8800 pop) and Camacha (c. 8000 pop) etc. Alternative names for this island can be Ilha da Madeira. Islands close by are Deserta Grande, Ilhéu da Port of Cruz, Cal Islet, Ilhéu de Cima, Ilhéu de Ferro, Porto Santo Island, Ilhéu de São Jorge, Ilhéu Chão, Fora Island and Ilhéu das Cenouras, etc. Are you planning to take the ferry to other islands (Island Crossings)? Few car rental companies allow you to bring your rental car. Read more in the rental terms when booking.
Suggestions and tips on what to do on Madeira, attractions, places, experiences, and tips on destinations to visit during your stay. to see the whole of the island from a viewpoint, please visit Eira do Serrado Viewpoint and Panoramic Viewpoint of Torre. Praia de Vigario, Praia de São Jorge, Cristo Rei, Santa Cruz, Praia da Maiata, Praia da Alagoa, Praia Machico, Praia da Ribeira de Natal and Praia Formosa are beaches nearby if you want to relax and bask on the beach. Pico Ruivo de Santana and Pico do Arieiro are among the highest mountains near or on the island. Some high mountain peaks on the island are Pico da Urze. Vinhos Barbeito, Henriques & Henriques – Wines and H. M. Borges – Madeira Wine are vineyards that are on or close to the island. Aquaparque de Santa Cruz and Madeira Theme Park are water parks, amusement parks or theme parks nearby. If you are looking for activities and experiences for the whole family. do you want to try out the local golf courses? Golf courses that are close to, or on the island are e.g. Palheiro Golf and Santo da Serra Golf Club. You can visit interesting and magic caves such as São Vicente Caves and Grutas de São Vicente.
Destinations on Madeira
Car hire in airports nearby: Rent a Car Madeira Funchal Airport and Porto Santo Airport. Car rental in nearby cities: Cheap Car Hire Funchal, Câmara de Lobos, São Martinho, Caniço and Machico. Rent a car on islands nearby: Car Hire Porto Santo.
Car hire companies we compare on Madeira, Portugal
AirAuto, Zitauto, Auto Rent, National, Turisprime, Centauro, 2Rent, Best Deal, Autatlantis, Auto Turistica, Turiscar, Drive on Holidays, Goldcar, Hertz Dream Collection, Guerin, Payless, InsularCar, InterRent, Drive & Go, Rent a Star, OPORent, Angrauto, Orbita, Flizzr, Micauto, Autoclick, Drive4Less, Budget, Dollar, Surprice, Thrifty, Rhodium, Europcar, Firefly, Discovery, Rodavante, BENErent, MadeiraRent, Ilha Verde, Avis, Hertz, Autocunha, Varela Rent a Car, Sixt, SadoRent a car, Yor Car, Enterprise, Keddy By Europcar, Bravacar, 296 Rentacar, Yes Car Hire, Alamo and CAEL are the companies we compare on Madeira to find the best prices.
Car Hire & Rent a Car Madeira Customer Reviews & Feedback