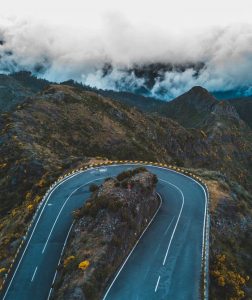 The car hire offices can be found on the Level 0 of the main terminal. You can find the offices of Goldcar, Europcar, Hertz, Rodavante, Avis, Budget, Sixt, MadeiraRent, Enterprise and Guerin inside the Arrivals hall.
You can find the pick up location of your hire car directly across the terminal. It is a short walk to reach the pick up location. You need a credit card to make an online reservation. Autoportugal.co.uk lists car rental prices from companies that are safe and quality assured so that there will not be any problems when you want to pick up your car at Madeira Airport. Large company and safe or a minor and cheap? It pays off to compare car hire prices before you book. Here you can compare rental cars and vehicle rent from several companies at Madeira Airport in Funchal, Portugal.
We can offer car hire deals where every cost is included, no hidden fees and free cancellations/amendments up to 24-48 hours before you are supposed to retrieve the car. A easy and safe online search for rental cars that finds the best deals. Cheap rental cars you can pick up directly at Madeira Airport. Look and search for a location and a choose your destination in the list. It is possible to rent a car for one way, this is called a one way rental. You collect the car at Madeira Airport and return it somewhere else, e.g. another city or country. More information on where to you pick up or return your rental car, will be given after your reservation has been made. All companies have their own offices where you can pick up keys etc. Compact, premium, minivan, mini, moped, fullsize, convertible, economy, intermediate, suv, jeep, standard, 9 seat minivan, minibus, cargo van, 5 seat minivan, 7 seat minivan, luxury, estate and automatic transmission cars are car types and models that autoportugal.co.uk can compare prices on. Compare car hire for a day, long term, one year, a whole month, week, weekend or for as many days as you wish.
Compare rental cars at Madeira Airport
Happy Car on Rua do Ribeirinho N4a Machico
Happy Car on Rua Professor Doutor Fernando São Doliveira 5 Febres
Europcar Airport on Aeroporto do Santa Cruz
Hertz Aeroporto on Santa Cruz
Thrifty on Aeroporto da Santa Cruz
Sixt on Santa Cruz
Rodavante on Vr1 11 Santa Cruz
Centauro on Er237 100 Santa Cruz
Guerin on Aeroporto Cristiano Ronaldo Santa Cruz
Rückgabestation on Er101 Santa Cruz
Goldcar on Airport of Santa Cruz
Atlantic on Rua Fabrica Burnay 1 Santa Cruz
Centauro on Rúa 24 de Julho N 9 Sitio da Bemposta Freguesia de Agua de Pena Machico
Auto100 on Rua Engenheiro Santos Costa 14 Machico
Whynot on Santa Cruz
Thrifty on Aeroporto de Santa Cruz
Avis on Aeroporto do Fnc Santa Cruz
are the companies we compare at the airport to find the best price.
About Madeira Airport (Madeira International Airport, Funchal Airport, Cristiano Ronaldo International Airport) information, facts and data. The airport has a one terminal. There are no air-bridges, so passengers walk or are driven by shuttle bus. The terminal is mostly underground. It is the fourth-busiest airport in Portugal. The airport is in the municipality of Santa Cruz Municipality, in the Madeira district, in Portugal. The airport is located above sea level by 192 feet/59 meters. Other names can be Aeroporto de Santa Catarina, Madeira International Airport, Aeroporto da Madeira Cristiano Ronaldo, Funchal Airport, Madeira Airport, Cristiano Ronaldo International Airport, Aeroporto do Funchal, Aeroporto Internacional da Madeira. The airport is named after Madeiran football player Cristiano Ronaldo. The airports Porto Santo Airport are also nearby. Closest big cities and communities are Funchal 15 km (c. 100800 pop), Câmara de Lobos 20 km (c. 32200 pop), São Martinho 16 km (c. 26500 pop), Caniço 8 km (c. 23400 pop), Machico 2 km (c. 12600 pop) and São Roque 14 km (c. 9400 pop). Are you planning to, or flying to/from, and will be using Madeira Airport on your holiday or trip? Here you can find information, maps, weather, contact information and airport information. Lodging and hotels that are close to the airport are, e.g. Residencial Prisma, Albatroz Beach and Yacht Club, Santa Catarina Hotel and Residencial Familia. All hotels are within 3 km from the terminals. Airport code is IATA: FNC and ICAO: LPMA. Closest communities are Santa Cruz 2 km, Machico 2 km, Camacha 7 km, Caniço 8 km, Nossa Senhora do Monte 12 km and São Roque 14 km. The airport is ranked as the ninth most dangerous airport in the world and the third most dangerous in Europe. Airlines that fly regularly to the airport: First Choice Airways, easyJet, Portugália, SAS, British Airways, Lufthansa, Austrian Airlines, Air France, Finnair, Thomson, LTU, Sterling, Transavia, SATA, My Travel, TAP Portugal, Condor, Norwegian Airlines and Binter Canarias.
Bus, parking and taxi
There is a bus-route between Madeira Airport and Funchal city centre. Aerobus drives towards Formosa and stops at several hotels. There are several public transportation bus-routes that provide service from the airport to several places around the island. The taxi company at the airport is Aitram Taxi. It takes 20 minutes to Funchal from Madeira Airport by taxi. Taxis are available everywhere in Madeira and offering all sights and locations for fixed prices. Buses? These stations and stops for buses are located at the airport Madeira Airport Bus Station, Estacao de Machico and Bus and taxi travel center in Rodoeste. Renting a car is a really great way to see the island and there is many companies at the airport. Airport parking is available at P0, P1 (Express), P5, P6 (Long Stay) and P7 (Low Cost). All car parks are within walking distance of the terminal.
Car rental companies at Madeira Cristiano Ronaldo Funchal Santa Catarina Airport (FNC), Portugal
To find the best price, compare the following companies Turiscar, Avis, Drive4Less, InsularCar, 296 Rentacar, Micauto, InterRent, Drive & Go, Centauro, Best Deal, Goldcar, Discovery, Auto Rent, Firefly, Enterprise, Sixt, Rent a Star, Varela Rent a Car, Autoclick, Payless, Autocunha, National, Europcar, AirAuto, Flizzr, Guerin, Surprice, SadoRent a car, MadeiraRent, 2Rent, Zitauto, Alamo, Bravacar, Thrifty, Auto Turistica, Hertz, OPORent, Rhodium, Angrauto, Wayzor, Turisprime, Keddy By Europcar, Key and Go, Drive on Holidays, Hertz Dream Collection, Budget, Ilha Verde, Autatlantis, BENErent, CAEL, Dollar, Yes Car Hire, Yor Car, Rodavante and Orbita at autoportugal.co.uk in Portugal.
Car Hire & Rent a Car Madeira Cristiano Ronaldo Funchal Santa Catarina Airport Customer Reviews & Feedback