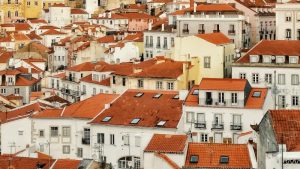 Comparison of rental car and car hire from several businesses in the city Lisbon, Portugal. Find the best prices for rental cars online. Comparing prices online can be very profitable, many smaller companies can only be booked on site.
We have an easy and safe online booking of rental cars. Car hire where every cost is included, no hidden fees and free cancellations/amendments up to 24 hours before you are supposed to pick up the car. Search and choose destination, search for country, city etc. and choose from the list. Rental cars at Lisbon's train stations (Estação do Rossio, Santa Apolónia, Cais do Sodré and Entrecampos) travel centre and airports like Lisbon-Portela Airport, Lisbon Cascais-Tejo Airport and Alverca Airport, LIS and ferry terminals and ports (Doca de Recreio de Santo Amaro, Marina Parque das Nações, Port of Lisboa and Portico of Lisnave). Realcar Bluealliance on Avenida Madame Curie 11, Europcar on Avenida Infante Dom Henrique, Ausocar on Rua Diogo Bernardes 17d, Cosyportugal on Rua Almeida e Sousa 9, Dscar on Avenida da Liberdade 9, Avis on Rua Rodrigo da Fonseca 156, Rupauto on Rua Beneficência 99, Limousines on Edifício Quelhas 28 Rua Jorge Alves Lj D Lounge A, Goodrent on Travessa do Fala Só 11, Europcar Downtown on Avenida António Augusto de Aguiar 24 C D, Cael on Rua Braamcamp 52, Sixt on Avenida da Liberdade 185, Avis Hotel Mundial on Praça Martim Moniz 2b, Avis Av Praia da Vitoria on Avenida Praia da Vitória 12c, Europcar City Center on Rua Rodrigues Sampaio 148, Auto Estrela on Avenida João Crisóstomo 65, Olivauto on Avenida São João de Deus 41, Citydrive on Rua da Prata 59 are the companies we compare in the city and in Lisbon to find the best price.
Lisbon (Felicitas Julia, Lisboa, Olisipo) is a city in the municipality Lisbon Municipality, Lisbon district, Portugal. The city is the capital of the country. 1th largest city/town when it comes to inhabitants in the region and the 1th largest town/district in Portugal. Small villages, communities and suburbs nearby are Póvoa de Santo Adrião, Costa de Caparica, Samora Correia, Porto Salvo, Alhos Vedros, Beato António, Baixa, Chiado, Bairro Alto and Areeiro. The city had c. 517 800 inhabitants at the end of 2015. Are you planning to stay for a long period and spend your holiday here? Then there are many things to do and experience. The town/city is located about 45 MASL. Larger surrounding cities/communities are Amadora (c. 178900 pop), Setúbal (c. 117100 pop), Queluz (c. 103400 pop) and Cacém (c. 94000 pop). Bus stations and bus stops in the city are Bus station and taxi station in Sete Rios, Terminal Aeroporto Lisboa and Oriente. Subway (metro) stations in the city are Martim Moniz, Intendente, Restauradores, Baixa-Chiado and Terreiro do Paço. There are also car rental companies like Autorent on Rua de Xabregas Lta S126, Cael on Rua Braamcamp 52a, Thrifty on Rua Castilho 72, Freixo on Avenida de Roma 125 Loja B, Good Rent on Avenida do Brasil 92c, Guerin on Avenida Álvares Cabral 45 B, Pentacar on Rua de 3a, Sado Rent Alug Aut on Rua Dr Silva Teles 3 A Praça de Espanha, Enterprise on Avenida Álvares Cabral 45b, Portugalrent City on Rua Rodrigo da Fonseca 9b, Cars on Rua Diogo Bernardes 17d, Hertz on Rua Castilho 72, Turiscar Almada on Praça Gil Vicente 11 A B Almada, Europcar Downtown Berna on Pq Empark Rua Marquês Sá da Bandeira, Turiscar on Avenida Barbosa du Bocage 98, Sixt on Rua Andrade Corvo 31b etc. We also give tips on which companies offer rental cars in Lisbon Municipality.
Tips and suggestions on places, events, activities, museums, attractions, experiences and tips on destinations you can visit during your stay in Lisbon, can be found here. Ruins Moinho de Vento, Chapel of Ordem Terceira do Carmo, Lazareto de Lisboa, Ruins Atlântica Companhia Portuguesa de Pesca, Palace of Quinta de Vila Formosa de Olivais and Quinta dos Ingleses are historical ruins of buildings and objects worth seeing and studying. Beautiful arcs, arcades and arches to visit during your visit are Arco da Rua Augusta. Want to visit some markets? The towns markets are e.g. Market 1 de Maio, Market of Benfica, Market Charneca, Market Municipal do Lavradio, Market Municipal de Corroios, Market Municipal de Almada, Market Encarnação Norte, Market of Arroios, Times Out Market and Flea market Ladra. A day for relaxing and sunbathing on the beach at Praia do Dafundo, Praia de Alburrica, Praia de Algés, Praia Barra-a-Barra, Praia do Moinho do Cabo, Praia do Seixal and Praia da Ponta dos Corvos. They are all close to the city.

Find the best car hire and cheapest car rental in airports nearby
Find the best car hire and cheapest car rental in airports nearby: Compare Rental Cars Lisbon-Portela Airport, Compare Hire Cars Cascais-Tejo Airport and Hire Cars Sines Airport. Here you can compare rental cars and vehicle rent from several companies in Lisbon.
Car rental companies in Lisbon, Portugal
When you are looking for rental cars we compare these companies Wayzor, Keddy By Europcar, Drive on Holidays, Micauto, BENErent, Sixt, InsularCar, Alamo, National, Discovery, Budget, Bravacar, Dollar, Goldcar, Flizzr, Guerin, Zitauto, Autoclick, Europcar, Centauro, Enterprise, Autatlantis, Rent a Star, Best Deal, SadoRent a car, Rodavante, Yor Car, Drive4Less, Autocunha, Thrifty, 2Rent, Turisprime, Yes Car Hire, Payless, Avis, Key and Go, Orbita, Varela Rent a Car, Ilha Verde, 296 Rentacar, MadeiraRent, Angrauto, Firefly, InterRent, Turiscar, Hertz, Hertz Dream Collection, Surprice, OPORent, Rhodium, AirAuto, Drive & Go, CAEL, Auto Turistica and Auto Rent. You can usually find the largest selection at airports such as Lisbon Humberto Delgado Portela de Sacavém Airport, Cascais-Tejo Lisbon Tires Airport, Sines Airport and Alverca Airbase. The large companies usually have offices adjacent to the airport.
Car Hire & Rent a Car Lisbon Customer Reviews & Feedback