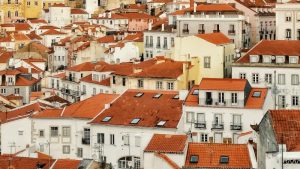 Comparison of rental car and car hire from several businesses in the city Lisbon, Portugal. Find the best prices for rental cars online. Comparing prices online can be very profitable, many smaller companies can only be booked on site.
We have an easy and safe online booking of rental cars. Car hire where every cost is included, no hidden fees and free cancellations/amendments up to 24 hours before you are supposed to pick up the car. Search and choose destination, search for country, city etc. and choose from the list. Rental cars at Lisbon's train stations (Estação do Rossio, Santa Apolónia, Cais do Sodré and Entrecampos) travel centre and airports like Lisbon-Portela Airport, Lisbon Cascais-Tejo Airport and Alverca Airport, LIS and ferry terminals and ports (Doca de Recreio de Santo Amaro, Marina Parque das Nações, Port of Lisboa and Portico of Lisnave). Realcar Bluealliance on Avenida Madame Curie 11, Europcar on Avenida Infante Dom Henrique, Ausocar on Rua Diogo Bernardes 17d, Cosyportugal on Rua Almeida e Sousa 9, Dscar on Avenida da Liberdade 9, Avis on Rua Rodrigo da Fonseca 156, Rupauto on Rua Beneficência 99, Limousines on Edifício Quelhas 28 Rua Jorge Alves Lj D Lounge A, Goodrent on Travessa do Fala Só 11, Europcar Downtown on Avenida António Augusto de Aguiar 24 C D, Cael on Rua Braamcamp 52, Sixt on Avenida da Liberdade 185, Avis Hotel Mundial on Praça Martim Moniz 2b, Avis Av Praia da Vitoria on Avenida Praia da Vitória 12c, Europcar City Center on Rua Rodrigues Sampaio 148, Auto Estrela on Avenida João Crisóstomo 65, Olivauto on Avenida São João de Deus 41, Citydrive on Rua da Prata 59 are the companies we compare in the city and in Lisbon to find the best price.
Lisbon (Felicitas Julia, Lisboa, Olisipo) is a city in the municipality Lisbon Municipality, Lisbon district, Portugal. The city is the capital of the country. 1th largest city/town when it comes to inhabitants in the region and the 1th largest town/district in Portugal. Small villages, communities and suburbs nearby are Póvoa de Santo Adrião, Costa de Caparica, Samora Correia, Porto Salvo, Alhos Vedros, Beato António, Baixa, Chiado, Bairro Alto and Areeiro. The city had c. 517 800 inhabitants at the end of 2015. Are you planning to stay for a long period and spend your holiday here? Then there are many things to do and experience. The town/city is located about 45 MASL. Larger surrounding cities/communities are Amadora (c. 178900 pop), Setúbal (c. 117100 pop), Queluz (c. 103400 pop) and Cacém (c. 94000 pop). Bus stations and bus stops in the city are Bus station and taxi station in Sete Rios, Terminal Aeroporto Lisboa and Oriente. Subway (metro) stations in the city are Martim Moniz, Intendente, Restauradores, Baixa-Chiado and Terreiro do Paço. There are also car rental companies like Autorent on Rua de Xabregas Lta S126, Cael on Rua Braamcamp 52a, Thrifty on Rua Castilho 72, Freixo on Avenida de Roma 125 Loja B, Good Rent on Avenida do Brasil 92c, Guerin on Avenida Álvares Cabral 45 B, Pentacar on Rua de 3a, Sado Rent Alug Aut on Rua Dr Silva Teles 3 A Praça de Espanha, Enterprise on Avenida Álvares Cabral 45b, Portugalrent City on Rua Rodrigo da Fonseca 9b, Cars on Rua Diogo Bernardes 17d, Hertz on Rua Castilho 72, Turiscar Almada on Praça Gil Vicente 11 A B Almada, Europcar Downtown Berna on Pq Empark Rua Marquês Sá da Bandeira, Turiscar on Avenida Barbosa du Bocage 98, Sixt on Rua Andrade Corvo 31b etc. We also give tips on which companies offer rental cars in Lisbon Municipality.
Tips and suggestions on places, events, activities, museums, attractions, experiences and tips on destinations you can visit during your stay in Lisbon, can be found here. Ruins Moinho de Vento, Chapel of Ordem Terceira do Carmo, Lazareto de Lisboa, Ruins Atlântica Companhia Portuguesa de Pesca, Palace of Quinta de Vila Formosa de Olivais and Quinta dos Ingleses are historical ruins of buildings and objects worth seeing and studying. Beautiful arcs, arcades and arches to visit during your visit are Arco da Rua Augusta. Want to visit some markets? The towns markets are e.g. Market 1 de Maio, Market of Benfica, Market Charneca, Market Municipal do Lavradio, Market Municipal de Corroios, Market Municipal de Almada, Market Encarnação Norte, Market of Arroios, Times Out Market and Flea market Ladra. A day for relaxing and sunbathing on the beach at Praia do Dafundo, Praia de Alburrica, Praia de Algés, Praia Barra-a-Barra, Praia do Moinho do Cabo, Praia do Seixal and Praia da Ponta dos Corvos. They are all close to the city.
Fornos da Cal, Coreto de Alhos Vedros, Rotunda das Locomotivas, Toca dos Dinossauros, Aqueduct Aguas Livres, Anta das Pedras Grandes, Cruzeiro de Odivelas, Moinho Quinta do Meio, Mina de Água de Linha and Anta de Agualva are close by if you are interested in the exciting history and archaeology of the area. Archaeological Site of Leceia and Archaeological Site of Colaride have fascinating antiquities, older buildings, ancient relics and cultural heritage near the city. Ondaparque, Aquarium Lisbon, KidZania, Fun Parque, Pavilhão Desportivo Carlos Lopes and Parque Aventura Sniper are water parks, amusement parks or theme parks nearby. If you are craving for activities and experiences with your children. Want to spend a day watching animals? Zoos, aquariums, tropicariums, terrariums, tropical houses and safari parks that are nearby are Aquário Vasco da Gama, Lisbon Oceanarium (Oceanário de Lisboa), Lisbon Zoo (Jardim Zoológico de Lisboa) and Noras da Quinta das Torres. Watching sports or exercising? Athletic fields close to the city are Club VII, META – Moita Escola de Ténis, Clube Rereativo Desportivo Brasileiro Rouxinol, Van Veggel Fields Tennis Lisbon, Complexo Municipal de Atletismo Carla Sacramento, Campo Quinta dos Barros, Minigolf Clube de Portugal, Campo de Futebol do Charneca da Caparica Futebol Clube, Pista de Atletismo Municipal Professor Moniz Pereira and Clube de Ténis do Jamor. to watch and experience football, sports and concerts etc. you can visit Stadium Restelo, Stadium Universitário de Lisboa, Stadium Municipal José Martins Vieira, Stadium Pina Manique, José-Alvalade-Stadion, Stadium Atlético Clube de Portugal, stadium of light, Stadium Francisco Lázaro, Campo Rocha Lobo – Monte da Caparica and Stadium José Gomes. Centro Comunitário Paroquial da Ramada and Municipal Auditorium do Fórum Cultural do Seixal are cultural centres for recreation and activities located close to the town centre. Gardens that are worth a visit and are located in the town centre are Park Castelo, Park Botanical d'Ajuda, Park Palace Beau-Séjour, Garden of Alameda Dom Afonso Henriques and Park Afonso de Albuquerque. do you want to see the views? Miradouro de São Pedro de Alcântara, Miradouro do Castelo de (Castle) São Jorge, Miradouro de Nossa Senhora do Monte, Miradouro de Santa Luzia and Miradouro das Portas do Sol are observation points in the central parts of town. Fascinating and fine plantings, green areas and parks that are located in the city are Park Constantino, Park Botto Machado, University of Lisbon Botanical Garden, Garden of Cerca da Graça and Garden of Pichas Murchas.
For opera, music and other cultural experiences a visit to opera de São Carlos, can be recommended. Why not visit Theater Turim, Altice Arena, Theater Armando Cortez, Municipal Auditorium of Ruy de Carvalho, Theater Barrio, Aula Magna, Theater Municipal Joaquim Benite, Maria Matos Theater Municipal, Theater Tália and Theater Municipal Amélia Rey Colaço to experience and see music, plays and shows nearby Lisbon. Look at famous statues and monuments of famous people and events like Statue of Duque da Terceira, Antonio Jose de Almeida (statue), Monument to the Mortos da Grande Guerra, Statue of Marquês de Pombal, Statue of Frédéric Chopin and Monument of the Restauradores. Rossio Square, Largo do Correio Mor, Praza de São Domimgos, Chiado, Praça Martim Moniz and Campo de Santa Clara are notable squares or large open spaces close by in the central parts of town. Oeiras Golf 14 km, Centro Nacional de Formação de Golfe do Jamor 10 km, Academia de Golfe de Lisboa 5 km, Aldeia dos Capuchos Golf 11 km, Aroeira 16 km and Clube de Golfe do Paço do Lumiar 7 km are golf courses located close to the community. do you want to play some golf or are planning a golf trip? Museum of Design E da Moda, Museum Nacional do Azulejo, Museum Militar, Museum of Fado, Museum of Lisboa – Torreão Poente, Museum of Farmácia, Casa-Museum Dr. Anastácio Gonçalves, Museum of Lisbon – Roman Theater, Museum Nacional de História Natural e da Ciência and Museum of Água are located nearby. Maybe a day at the museums and art galleries of the town?
Lisbon Casino are located in the city, try some gambling at a casino, or maybe try your luck on Black Jack or Roulette. Central race tracks and motor stadiums for horse racing and harness racing etc. are Karting Odivelas. Shopping at a mall? Maybe at Centro Comercial Verde Atlântico, Dolce Vita Miraflores, Forum Barreiro, Centro Colombo, Twin Towers, Alegro Alfragide, Centro Comercial Campo Pequeno, Centro Comercial da Portela, Amoreiras and Almada Fórum! Palace of São Bento, Palace of Rosa, Palace Ludovice, Palace Pancas Palha, Palace Henrique Mendonça, Palace of Suíços, Palace of Marqueses do Lavradio, Palace Sinel de Cordes, Palace Xabregas ou Marqueses de Olhão and Palace of Independência are exciting, older, magnificent buildings such as mansions and palaces nearby. Castle of São Jorge, Castle of São Jorge and Castelo de (Castle) Pirescoxe are new and old castles that we recommend a visit to and are located in Lisbon. Close by there are interesting forts, strongholds and fortresses such as, Fort and castle of Monsanto, Fort and castle of Sacavém, Fort and castle of São Bruno, Fort of São Sebastião de Caparica and Fort of Alto do Duque. Beautiful churches or cathedrals not far away are Church of São Domingos, Monastery of São Vicente de Fora, Church of Santo Estêvão, Church of Santa Engrácia and Church of Santa Luzia.
Car hire in airports nearby
Car hire in airports nearby: Compare Rental Cars Lisbon-Portela Airport, Cascais-Tejo Airport and Sines Airport.
Car rental companies in Lisbon, Portugal
When you are looking for rental cars we compare these companies Sixt, Europcar, Thrifty, Hertz Dream Collection, Enterprise, Micauto, Angrauto, Rhodium, Surprice, Dollar, Budget, Drive4Less, Ilha Verde, 2Rent, InsularCar, Zitauto, National, Guerin, Drive on Holidays, Goldcar, MadeiraRent, AirAuto, Discovery, CAEL, SadoRent a car, Yor Car, Firefly, Autocunha, Autoclick, Payless, Varela Rent a Car, Yes Car Hire, Centauro, Bravacar, Autatlantis, Rodavante, Keddy By Europcar, 296 Rentacar, Turiscar, Auto Turistica, Hertz, Orbita, Turisprime, InterRent, Rent a Star, Alamo, OPORent, Flizzr, Auto Rent, Drive & Go, BENErent, Avis and Best Deal. You can usually find the largest selection at airports such as Lisbon Humberto Delgado Portela de Sacavém Airport, Cascais-Tejo Lisbon Tires Airport and Sines Airport. The large companies usually have offices adjacent to the airport.
Car Hire & Rent a Car Lisbon Customer Reviews & Feedback