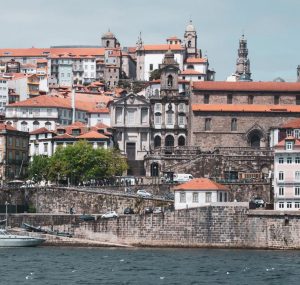 We can offer car hire where every cost is included, no hidden fees and free cancellations/amendments up to 24 hours before you are supposed to retrieve the car. Easy and safe online search for rental cars. Rental cars you can pick up directly at the airport, Porto Airport. Look for a location and a choose destination in the list.
Large and safe or small and cheap? It pays off to compare before you book. Here you can compare rental cars and vehicle rent from several companies at Porto Airport in Porto, Portugal. Closest communities are Santa Cruz do Bispo 3 km, Moreira 3 km, Lavra 3 km, Gemunde 4 km, Anta 5 km and Maia 5 km. Autoportugal.co.uk lists prices from companies that are safe and quality assured so that there will be no problems when you want to pick your car up. Airport code is IATA: OPO and ICAO: LPPR. to find the best price, compare the following companies Hertz Aeroporto on Francisco Sá Carneiro Airport Maia, Europcar Shuttle Maia on Av do Arq Fernando Tavora 1599 Maia, Sixt on Francisco Sá Carneiro Airport Maia, Guerin on Moreira Aeroporto Internacional Francisco Sá Carneiro, Rent A Star on Nacional 107 N 1147 Moreira da Maia, Thrifty Aeroporto on Avenida do Aeroporto S N Maia, Goldcar on Avenida do, Goldcar Aeroporto do on Avenida do Aeroporto 1088 Maia, Budget on Aeroporto Francisco Sá Carneiro Piso 0 Zona das Chegadas Balcão 8 Maia, Soc Comerc C Santos on Rua da Estrada 95 Maia, Interrent Aeroporto Maia on Est Nacional 107 Aeroporto, Sixt on Rua do Barreiro Moreira, Drive On Holidays on Rua do Barreiro 583, Europcar Aeroporto Sa Carneiro on Portugald Avenida do Aeroporto 322 Moreira, Avis Airport on Francisco Sá Carneiro Airport Maia, Sürprise on Rua do Barreiro 517, Europcar Maia on Aeroporto do Francisco Sa Carneiro Maia, Cael on Av Arquitecto Fernando Távora N107 N 2021 Maia at autoportugal.co.uk in Portugal. Collect the car in one place and return it somewhere else, e.g. another city or country. It is possible to rent a car for one way, called the one way rental. Compare long-term rental for one day, one year, a whole month, week, weekend, or for as many days as you wish. Fullsize, economy, standard, 5 seat minivan, mini, cargo van, intermediate, 7 seat minivan, minivan, luxury, suv, jeep, estate, compact, convertible, 9 seat minivan, minibus, moped, premium and automatic transmission cars are car types and models that autoportugal.co.uk can compare prices on.
Facts, information and data about Porto Airport (Pedras Rubras Airport, Francisco de Sá Carneiro Airport). The airport is in the municipality of Maia, in the Porto district, in Portugal. Porto 12 km (c. 249600 pop), Braga 40 km (c. 121400 pop), Vila Nova de Gaia 15 km (c. 70800 pop), Felgueiras 43 km (c. 58100 pop) and Aveiro 67 km (c. 54200 pop) are big cities and municipalities nearby. Other nearby airports are Braga Airport, Vila Real Airport and Viseu Airport. The airport is situated above sea level by 228 feet/69 meters. Other names for this airport could be Aeroporto Francisco Sá Carneiro Porto, Francisco de Sá Carneiro Airport, Pedras Rubras Airport, Aeroporto de Porto. do you have time and are in the mood for tax-free shopping close to the airport? You will find Centro Comercial Venepor, Centro Comercial Londres, Mar Shopping and Jumbo Maia nearby. Porto Airport Bus Station, Terminal Alsa, Parque das Camélias bus station and taxi station and General Torres are bus stations and stops for buses nearby. These metro (subway) stations are located at the airport Porto Airport Metro Station, Estação do Metro de Pedras Rubras, Botica, Verdes, Custió and Araújo. Lodging and hotels that are close to the airport are, e.g. Spa Miramaia, Central Parque, Premium Maia Porto – Aeroporto, Vianorte and Hotel Tryp Porto Expo. All hotels are within 3 km from the terminals.
Closest train stations are Castelo da Maia Railway Station, Leixões, Sao Frutuoso and Leandro. If you plan to continue travelling, or arrive by train, all are within 4 km. Are you planning to, or flying to/from, and will be using Porto Airport on your holiday or trip? Here you can find information, maps, weather, contact information and airport information. More information on where to you pick up or return your rental car, will be given after your reservation has been made. All companies have their own offices where you can pick up keys etc. On site there are car rental companies such as Flizzr on Rua do Barreiro 492 Maia, Europcar on Avenida do Aeroporto 322 Moreira, Firefly on Rua do Barreiro 583, Europcar on Moreira, Centauro on Joaquim Alves de Sousa Moreira 148 Maia, Rhodium on Rua do Monte 291 Vila Nova da Telha, Enterprise Aeroporto on Rua do Monte 29 Moreira, Drive & Go on Rua do Barreiro, Blue Smile on N107 1298, Turisprime on Rua do Barreiro 583 Maia, Surprice on Rua do Barreiro 492 Maia, Hertz Maia on Rua do Barreiro 492 Armazém A Maia, International Car on Rua do Barreiro 492 Fração B Maia, Wbc World Business Connection on Rua da Cruz 1316 Lavra, Guerin Perafita on Estrada Nacional 107 Km 8 1 Perafita, Sixt on Avenida do Aeroporto Moreira, Oporent on Avenida do Aeroporto 541, Sadorent on Rua de Julieta Ulbaldina Miranda Lt 5 Maia, Ecomobile on Avenida do Aeroporto 1318.
Car hire companies and car rental at Porto Francisco Sá Carneiro Airport (OPO), Portugal
To find the best price, compare the following companies Best Deal, InsularCar, Micauto, InterRent, Turisprime, Rhodium, Ilha Verde, Yes Car Hire, Rent a Star, Firefly, CAEL, BENErent, Drive on Holidays, Drive & Go, Sixt, Auto Turistica, Enterprise, Turiscar, Goldcar, Auto Rent, Avis, 2Rent, Alamo, Keddy By Europcar, Zitauto, Hertz Dream Collection, National, MadeiraRent, Dollar, 296 Rentacar, Autatlantis, Rodavante, SadoRent a car, Discovery, Payless, Drive4Less, Orbita, Guerin, Thrifty, AirAuto, Bravacar, Surprice, Yor Car, Europcar, Autoclick, Flizzr, Hertz, Autocunha, Angrauto, OPORent, Centauro, Budget and Varela Rent a Car at autoportugal.co.uk in Portugal.
Car Hire & Rent a Car Porto Francisco Sá Carneiro Airport Customer Reviews & Feedback