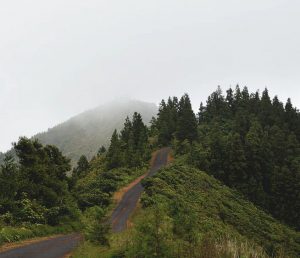 Renting a car in São Jorge will be the most convenient method to get around during your stay. It not only makes things more accessible during your vacation, but it also gives you more options. The island of Sao Jorge is quite small and when you rent a car, you can do everything on your own schedule without having to worry about public transportation schedules or purchasing tickets to travel.
São Jorge Airport is about 5 kilometres outside of Velas, the island's central town. Although there are no vehicle rental offices at the airport (in fact, there isn't much at the airport), most car rental firms are close by and will meet you there. If you have reserved a car ahead of time, an employ from the car rental company will have a sign with your name and meet you on arrival. These are the companies, that are based not far from the airport and operate on São Jorge: Azorean Way Rent a Car, Ilha Verde, Autatlantis, Azores by Car, Rent-A-Car Oásis, Velas Auto, Avis, Sixt, Way2Azores and Europcar.
It always pays off to compare before you book. Small local businesses often have very good prices. We compare rental car prices and car hires from many companies at São Jorge Airport in Velas, Portugal and find the best prices on rental cars. Closest cities are Madalena 34 km, Horta 42 km and Ribeira Grande 48 km. Autoportugal.co.uk lists prices from companies that are safe and quality assured so that there will be no problems when you arrive. Airport code is IATA: SJZ and ICAO: LPSJ.
Search for rental cars that you pick up directly at São Jorge Airport. Our search box looks for all pick up locations nearby. Rent a car where every cost is included, no hidden fees and free cancellations/amendments up to 24 hours before you are supposed to pick up the car. Easy and safe online booking of rental cars. Compare the number of days you want, whether that be a week, weekend, rent for a day, a year, a whole month or a long-term rental. It is possible to rent a car for one way, this is called a one way rental. You collect the car in one place and return it somewhere else, e.g. another city or country. to find the best price, compare the following companies Avis on de Sao Jorge, Europcar Sao Jorge, Azoreanway on Largo Dr João Pereira, Sixt on De, Green Island St George Apt on Fajã da Queimada Santo Amaro at autoportugal.co.uk in Portugal. Moped, suv, jeep, 5 seat minivan, luxury, estate, 7 seat minivan, convertible, intermediate, mini, fullsize, standard, economy, 9 seat minivan, minibus, compact, premium, minivan, cargo van and automatic transmission cars are car types and models that autoportugal.co.uk can compare prices on.
Facts, information and data about São Jorge Airport. São Jorge Airport in Portugal is a minor airport. It is a domestic airport, there are no international flights to So Jorge Island at the moment. Flights come in from the neighbouring islands of Ponta Delgada and Terceira Island. There is only one runway at the airport. SATA is the only airline that serves São Jorge Island. Flights to São Jorge Island depart regularly from Terceira Island and Ponta Delgada. A public phone booth is available to tourists, and there is one information counter that also serves as a check-in desk. Lounges with comfy seating, a bar, a restaurant, duty-free stores, and free Wi-Fi. For passengers travelling with children, there is also a children's room.
The airport is in the municipality of Velas Municipality, in the Azores district, in Portugal. Other names for this airport could be São Jorge Airport, Aeródromo de São Jorge. Other nearby airports are Pico Airport, Graciosa Airport, Horta Airport and Lajes Field. The airport is situated above sea level by 311 feet/95 meters. Closest big cities and communities are Angra do Heroísmo 83 km (c. 12000 pop), Horta 42 km (c. 6600 pop), Madalena 34 km (c. 6100 pop), Praia da Vitória 97 km (c. 6100 pop) and Ribeira Grande 48 km (c. 5200 pop). Need a place to sleep? Cantinho das Buganvilias and Sao Jorge Garden are examples of hotels and youth hostels close to the airport. They are all within 3 km. You will find accurate information about where to pick up and/or return your car on your order/voucher. All rental car companies have their own offices where you pick up keys etc. If you are planning or will be flying to, or from and use São Jorge Airport, you will find information about the airport, maps, contact information and the weather here.
Taxi and Buses
Outside the airport, there is a taxi rank. Taxis on São Jorge have set tariffs and a one-way journey between the city center and the airport costs €8. Taxis might charge for luggage, which is up to €2.50 per bag. On São Jorge, there is a bus service that take you to several spots on the island.
Car rental companies at São Jorge Airport (SJZ), Portugal
When you are looking for rental cars, we compare these companies Avis, Hertz, Europcar, Budget, Sixt, Thrifty, National, Enterprise, Alamo, Dollar, Keddy By Europcar, InterRent, Payless, Firefly and Flizzr at autoportugal.co.uk, all with offices in Portugal.
Car Hire & Rent a Car São Jorge Airport Customer Reviews & Feedback