Portugal is a beautiful country famous for its exquisite scenery, rich history, and gorgeous golden sandy beaches. A trip to Portugal is a once-in-a-lifetime opportunity to enjoy some of the stunning vistas and enjoy some of the best surfing in the world. With a popular wine industry and incredible cities like Aveiro and Lisbon, a holiday in Portugal is a fantastic idea. One of the best ways to explore this beautiful country is to go beyond the mainland and explore the magnificent islands in Portugal.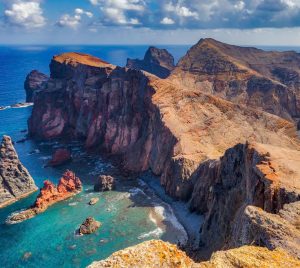 But, the biggest question you will face is how to navigate from one island to another? The best way to travel across the islands in Portugal is to rent a car and simply take your car on board a ferry as you cross over to the next island. There are many car hire companies in Portugal, and you can compare car rental plans from all the leading companies on various websites today. You can also ask your hotel to do a car rental comparison for you and have a cheap car rental waiting for you once you reach.
Here are the top islands in Portugal that you must visit.
1. Sao Miguel Island
Sao Miguel Island is the first island you should visit for sightseeing. This island is a part of the Azores Portuguese islands. Sao Miguel is the biggest island of all the islands in this group. This island is famous for its volcanic calderas and the many mineral hot springs. This is the best place to relax after a full day of sightseeing. When you visit the Sao Miguel Island, you must go on the whale and dolphin watching tours that can get booked at any of the beautiful beaches.
2. Ilha De Armona
If you want to get away from the tourist crowd, the secluded island of Ilha De Armona is perfect for you. Located not far from the Algarve region, this island is free from people, cars, and chaos. You will feel transported to a different world altogether. Warm sum, crystal blue waters, exquisite architecture, and incredible views, Ilha De Armona, is perfect for rejuvenation.
3. Madeira Island
One of the most popular islands located off the coast of Portugal, Madeira Island is blessed with one of the most pleasant weather out of all the islands. The Madeira Island offers you the perfect combination of nature – golden sandy beaches and lush green forests that you can explore.
4. Pico
The Pico Island takes its name for its namesake volcano. You cannot miss this island when you come to Portugal. Ponta do Pico is the highest mountain here and in Portugal. Hiking along the summit of this mountain is one of the most popular activities on the island.