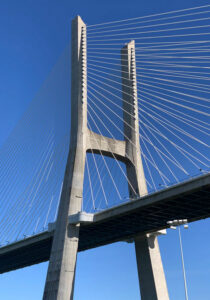 Comparison of rental car and car hire from several businesses in the town Loures, Portugal. Find the best prices for rental cars online. Comparing prices online can be very profitable, many smaller companies can only be booked on site. We have an easy and safe online booking of rental cars. Car hire where every cost is included, no hidden fees and free cancellations/amendments up to 24 hours before you are supposed to pick up the car. Search and choose destination, search for country, city etc. and choose from the list. Rental cars at Loures's train stations (Sacavem, Santa Iria, Moscavide and Lisbon Orient Station) travel centre and airports like Lisbon-Portela Airport, Alverca Airport and Lisbon Cascais-Tejo Airport. We compare these companies in this city or in; Lisbon, Central Tojalense on Largo Francisco M Borges Praça Taxis Santo Antao Tojal Santo Antão do Tojal, Turiscar Odivelas on Rua Pedro Álvares Cabral 5, Ferraz Group Brazil on 6 Esq Rua Vasco da Gama 13.
Loures is a town in the municipality, Loures Municipality, Lisbon district, Portugal. 6th largest city/town when it comes to inhabitants in the region and the 12th largest district/town in Portugal. With about 66 200 (2015) inhabitants. Located about 23 m above sea level. Póvoa de Santo Adrião, Costa de Caparica, Samora Correia, Porto Salvo, Alhos Vedros, Beato António, Mafra, Mealhada, Sete Casas de Baixo, Ponte de Frielas and Quinta do Caldeira are small villages, suburbs and communities nearby. Other larger cities/communities nearby are Lisbon (c. 517800 pop), Amadora (c. 178900 pop) and Setúbal (c. 117100 pop). Whether you are visiting the town Loures just for one day or for a longer period, there is plenty to do. Read more further down. Bus stations and bus stops in the city are Terminal Aeroporto Lisboa, Oriente, Bus station and taxi station in Sete Rios and Alverca. Metro Aeroporto Lisboa, Encarnação, Campo Grande, Moscavide and Colégio Militar/Luz are subway (metro) stations nearby. We also give tips on which companies offer rental cars in Loures Municipality.
Are you staying for a long time in Loures? Some suggestions and tips on museums, activities, events, attractions, experiences, destinations and places that are worth a visit during your trip to the town. Fort of Portela Grande, Fort of Serra da Aguieira, Fort of Mosqueiro, Palace of Quinta de Vila Formosa de Olivais, Fort and castle of Alqueidão and Sanatorium Albergaria are interesting ruins of old buildings and objects. Gardens that are worth a visit and are located in the town centre are Park Botanical de Famões. Fascinating and fine plantings, green areas and parks that are located in the town are Parque Adão Barata, Park Major Rosa Bastos, Park Ribeirada and Parque Roberto Nobre. do your shopping and make some bargains at Market Encarnação Norte, these are markets that are close by and well worth a visit.
Palace Pintéus, Palace of Correio-Mor, Palace of Marquês do Alegrete and Palace Benagazil de Olivais are magnificent and interesting buildings, villas and palaces close to the centre of Loures. In the town centre there are new as well as old interesting castles to look at, such as Castelo de (Castle) Pirescoxe, Castle of São Jorge and Castle of São Jorge. Fort and castle of Sacavém and Fortification of Ribas are exciting old fortresses, strongholds and forts to visit. Are you interested in history and archaeology? Nearby are interesting places located at Toca dos Dinossauros, Cruzeiro de Odivelas, Mina de Água de Linha, Fornos da Cal, Aqueduct Aguas Livres and Moinho Quinta do Meio. Ancient relics, cultural heritage, antiquities and older buildings close to Loures are located at Roman villa of Alto da Cidreira, Archaeological Site of Leceia and Archaeological Site of Colaride. Strada Outlet, Centro Comercial Continente de Loures, Centro Comercial Chapim, LoureShopping, IKEA Loures and Dolce Vita Tejo are malls in the city if you want to do some shopping. Want to watch a game or sports, maybe go to a concert? Close to the city are Campo da Meia Laranja and José-Alvalade-Stadion. Maybe see a local game of football?
Nearby destinations, Loures
Find the best car hire and cheapest car rental in airports nearby: Compare Rental Cars Lisbon-Portela Airport, Compare Hire Cars Alverca Airport and Hire Cars Cascais-Tejo Airport. Cheap Convertible Car Rentals in Loures. Rent a car in cities in the region: Cheap rental cars Lisbon, Cheapest Car Hire Amadora, Cheap car rental Queluz, Cacém and Algueirão.
Car rental companies in Loures, Portugal
Avis, Hertz, Europcar, Budget, Sixt, Thrifty, National, Enterprise, Alamo, Dollar, Keddy By Europcar, InterRent, Payless, Firefly, Flizzr, Surprice, Goldcar, Rhodium, Hertz Dream Collection and Autoclick are the companies we compare in Loures. You can usually find the largest selection at airports such as Lisbon Humberto Delgado Portela de Sacavém Airport, Cascais-Tejo Lisbon Tires Airport and Alverca Airbase. The large companies usually have offices adjacent to the airport.
Car Hire & Rent a Car Loures Customer Reviews & Feedback