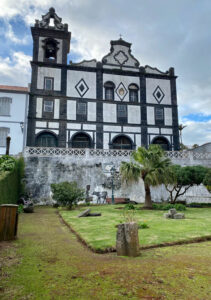 We have an easy and safe online booking of rental cars. Car hire where every cost is included, no hidden fees and free cancellations/amendments up to 24 hours before you are supposed to pick up the car. Search and choose destination, search for country, city etc. and choose from the list. Rental cars at Horta's train stations travel centre and airports like Horta Airport, Pico Airport and São Jorge Airport, HOR and ferry terminals and ports (Marina da Horta, Port of Horta and Porto Pim).
Comparison of rental car prices and car hire from several businesses in the town Horta in Portugal. Find the best prices for rental cars. It always pays off to compare before you book, in some smaller communities local companies can have very competitive prices. When you are looking for rental cars we compare these companies; Avis on Rua Angustias N 70 R C, Autoturistica Faialense on Rua Conselheiro Medeiros 12 144, Autocanal Com e Equi Industriais on Estrada Príncipe Alberto Mónaco 26, Avis Terminal Maritimo on Terminal Maritimo da Av 25 Abril, Europcar on Rua das Angústias 70 R C, Europcar Marine Terminal on Avenida 25 de Abril Terminal Maritimo, Aerohorta on Rua Conselheiro Medeiros 2, Green Island on Rua das Angústias 70, Terauto Faial on Zona Industrial de Sta Bárbara, Small Rent Aluguer Smarts on Largo do Bispo, Sixt on Rua Angustias N 70 R C, Rent on Rua das Angústias N66, all with offices on site or in Azores.
Horta is a town in the municipality Horta Municipality, Azores district, Portugal. 7th largest city/town when it comes to inhabitants in the region and the 337th largest town/district in Portugal. Madalena (c. 6100 pop) and Ribeira Grande (c. 5200 pop) are larger neighbouring communities and cities. The city is located about 1 meters above sea level. Madalena, Ribeira Grande, Lajes, Calheta, São Roque do Pico, Cais do Pico, Matriz, Conceição, Angústias and Santo Amaro are small villages, suburbs and communities nearby. About 6 600 (2015) people live in the town. Read more about what the town has to offer when it comes to experiences and which companies are located in Horta Municipality and the country. Find out more about the car hire companies in Horta Municipality.
Tips and suggestions on places, events, activities, museums, attractions, experiences and tips on destinations you can visit during your stay in Horta, can be found here. Azores Wine Company and Cooperativa Vitivinicola da Ilha do Pico are vineyards and wine producers close by. Beautiful churches or cathedrals not far away are Church of the Holy Savior, Church of Nossa Senhora do Rosário, Church of Nossa Senhora da Conceição and Senhora da Guia. Castello de Bom Jesus (historical), Castello da Greta, Fort and castle of São Sebastião and Fort of Santa Cruz are new and old castles that we recommend a visit to and are located in Horta.
Nearby destinations, Horta
Find the best car hire and cheapest car rental in airports nearby: Cheapest Car Hire Horta Airport, Cheapest Hire Cars Pico Airport, Cheap car rental São Jorge Airport and Graciosa Airport. Luxury Car Rental Deals in Horta. Find the cheapest car rental & best car hire in nearby cities: Rental Cars Madalena, Compare Rental Cars Velas, Cheap Car Hire Praia da Graciosa and Santa Cruz da Graciosa. We allows you to quickly and easily compare results from hundreds of car rental sites at once. Rent a car in cities in the region: Hire a Car Ponta Delgada, Cheap Hire Cars Lagoa, Rent a Car Angra do Heroísmo, Rabo de Peixe and Madalena.
Car rental companies in Horta, Portugal
To find the best price we compare following companies Avis, Hertz, Europcar, Budget, Sixt and Thrifty in Horta. You can usually find the largest selection at airports such as Horta Faial Airport, Pico Airport, São Jorge Airport and Graciosa Airport. The large companies usually have offices adjacent to the airport.
Car Hire & Rent a Car Horta Customer Reviews & Feedback