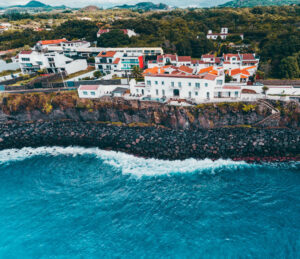 We have an easy and safe online booking of rental cars. Car hire where every cost is included, no hidden fees and free cancellations/amendments up to 24 hours before you are supposed to pick up the car. Search and choose destination, search for country, city etc. and choose from the list. Rental cars at Ponta Delgada's train stations travel centre and airports like Ponta Delgada-João Paulo II Airport, PDL and ports/ferry terminals like Marina Ponta Delgada, Marina Pero de Teive, Port of Calheta.
Compare rental cars and renting of a vehicle from several companies in the city, Ponta Delgada in Portugal. We compare large companies as well as small and find the best price for all types of cars. We compare these companies in Ponta Delgada or in Azores, Azorescar on 40 Rua António Joaquim Nunes da Silva 22, Ilha Verde Escritorio Central on Campo de São Francisco 9, Autatlantis on Rua dos Manaias 53 57, Auto Green Island on Campo São Francisco N9, Jovialrent on Rua Manuel Augusto Amaral, Wayzor on Rua de Edifício Varela R C, GO on Avenida Dom João Iii 30 R C, Joana Duarte on Rua de São João, Flor do Norte on Rua Doutor Guilherme Poças Falcão 43, Tourilhas on Rua Ernesto do Canto 37 D, Sixt on Campo de São Francisco, Green Island Park on Rua Direita do Ramalho, Micauto on Avenida Infante Dom Henrique 109, Autocunha Azores on Canto dos Prestes Cima 77, Euroçor on Rua de São João, Sixt on Solmar Avenida Center, Auto Ramalhense on Rua Direita do Ramalho 158 A São Miguel Açores, Avis Airport on João Paulo Ii Airport Aeroporto de São Miguel Açores.
Ponta Delgada is located in the municipality Ponta Delgada, Azores district, Portugal and is a city. It is the county seat in the region. It is the 1th largest town/city when it comes to inhabitants in the region and the 97th largest city/district in Portugal. With about 20 100 (2015) inhabitants. Smaller communities, villages and suburbs nearby are Lagoa, Rosto de Cão, Rabo de Peixe, Arrifes, Vila Franca do Campo, Senhora do Rosário, São Roque, Senhora da Piedade, Ramalho, Rosto de Cão and Fajã de Baixo. Larger neighbouring cities/communities are Lagoa (c. 14400 pop), Rosto de Cão (c. 7900 pop) and Rabo de Peixe (c. 7700 pop). Regardless of how long you are staying the city there are things to experience and do. Located about 38 m above sea level. Centrally located car rental companies like Azorescar on Avenida Dom João Iii 44 R C, Sixt on Aeroporto João Paulo Segundo, Pópulo on Avenida Hermano Feijó 20 A, Europcar Azores on Rua das Maricas 7e São Roque, Auto Ramalhense on Rua 6 de Junho, Azores Getaways Azores Vacation Specialists on Avenida Natália Correia 51, Avis C C Solmar on Solmar Avenida Center Lj 14, Green Island S Miguel Apt on Aeroporto João Paulo Ii, Green Island S Miguel C C Solmar on Loja R C Avenida Infante Dom Henrique 14, Frijoc on Rua Cristiano Frazão N 38 Valados, Azores Easy Rent Rent A Scooter Rent A Ebike, Hertz Aluguer de Autos on Rua de São Gonçalo, Europcar Airport Service on Aeroporto de Joao Paulo Ii, Avis Cidade on Campo de São Francisco 19, Europcar on Sao Roque, Lets Açores on Avenida Infante Dom Henrique 71 1o Andar Loja 116, ANC on Avenida João Bosco Mota Amaral S N Quiosque em Frente Ao Hotel Marina, Auto Lima on Rua Engenheiro Rolando Sao Lima 100 São Roque Pdl, Anc Azores Holidays on Avenida João Bosco Mota Amaral S N em Frente Ao Hotel Marina, Ilha do Sol on Lugar de Salvaterra 26 Vila. We also give tips on which companies offer rental cars in Ponta Delgada.
Tips and suggestions on places, events, activities, museums, attractions, experiences and tips on destinations you can visit during your stay in Ponta Delgada, can be found here. Manors and palaces worth seeing up close nearby in Ponta Delgada, are Palace of Sant'Ana. All within walking distance. Close by there are interesting forts, strongholds and fortresses such as, Fort and castle of São Brás. Historical and archaeological attractions that are worth seeing nearby are Portas da Cidade. Notable churches or cathedrals are Church of the Jesuit College, Santuário de Nosso Senhor Santo Cristo dos Milagres, Hermitage of the Mother of God and Church of St. Sebastian which are close by.
Nearby destinations, Ponta Delgada
Find the best car hire and cheapest car rental in airports nearby: Cheap Car Hire Ponta Delgada-João Paulo II Airport and Car Hire Santa Maria Airport. It is possible to rent a car for one way, this is called a one way rental. You collect the car in one place and return it somewhere else, e.g. another city or country in Ponta Delgada. Find the cheapest car rental & best car hire in nearby cities: Compare Car Rental Lagoa, Rent a Car Cheap Rabo de Peixe, Compare Hire Cars Ribeira Grande and Furnas. All prices include free mileage, fees at the airport and necessary insurances, local taxes and fees etc in Ponta Delgada. Rent a car in cities in the region: Rent a Car Lagoa, Car Rental Angra do Heroísmo, Compare Rental Cars Rabo de Peixe, Horta and Madalena.
Car rental companies in Ponta Delgada, Portugal
When you are looking for rental cars we compare these companies; Avis, Hertz, Europcar, Budget, Sixt, Thrifty, National, Enterprise and Alamo, all with offices on site or in the region. You can usually find the largest selection at airports such as João Paulo II Ponta Delgada-São Miguel Nordela Airport. The large companies usually have offices adjacent to the airport.
Car Hire & Rent a Car Ponta Delgada Customer Reviews & Feedback