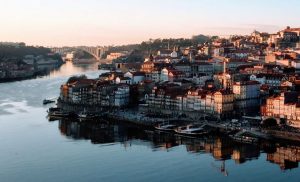 We have an easy and safe online booking of rental cars. Car hire where every cost is included, no hidden fees and free cancellations/amendments up to 24 hours before you are supposed to pick up the car. Search and choose destination, search for country, city etc. and choose from the list. Rental cars at Vila Nova de Gaia's train stations (Estação das Devesas, Alfândega, Estação de São Bento and Porto-Trindade) travel centre and airports like Porto Airport, Braga Airport, Viseu Airport and Vila Real Airport and ports/ferry terminals like Marina do Freixo, Marina da Afurada.
We compare large companies as well as small and find the best price for all types of cars. Compare rental cars and renting of a vehicle from several companies in the town, Vila Nova de Gaia in Portugal. Rentcarcity on Rua de Santa Catarina 742, Glassdrive Santos Pousada on Rua de Santos Pousada 343, Rent Tt 3ways on Avenida Gustavo Eiffel 290, Hertz on Rua de Santa Catarina 899, Roditur on Rua do Doutor Alfredo Magalhães 114, Turisrent on 1 Rua de Santa Catarina 275, Turiscar on Rua de Soares dos Reis 1192, Europcar on Avenida da República 1435, First Rent on Rua de Pinto Bessa 550, Realcar Bluealliance on Rua da Paz 66, Europcar on Rua António Bessa Leite 1478, Turisrent on Rua de Santa Catarina 1014, Avis on Estacao Caminhos de Ferro, Europcar Campanha Rrs on Lg da Estacao dos Caminhos de Ferro, Mitrent on Rua Doutor Ribeiro de Magalhães 212, Guerin Passos Manuel on Rua de Passos Manuel 176, Rent A Bike Ebike & Scooter Tt3ways on Avenida Gustavo Eiffel 290, Auto Mombaka on Avenida da República 341 are the companies we compare in the city/country.
Vila Nova de Gaia (Portus Cale, Gaia) is a town in the municipality, Vila Nova de Gaia Municipality, Porto district, Portugal. It is the central city in the area. 2th largest city/town when it comes to inhabitants in the region and the 10th largest district/town in Portugal. Larger neighbouring cities/communities are Porto (c. 249600 pop), Braga (c. 121400 pop) and Felgueiras (c. 58100 pop). Whether you are visiting the town Vila Nova de Gaia just for one day or for a longer period, there is plenty to do. Read more further down. Gafanha da Nazaré, Vilar do Paraíso, Valbom, Arcozelo, Canelas, Santo Tirso, Esgueira, Raza de Cima, Gravelos, Devesas and Mafamude are smaller suburbs, villages and communities nearby. With a population of 70 800 in 2015. The community/city is located about 122 MASL. General Torres, Parque das Camélias bus station and taxi station, Terminal Alsa and Porto Airport Bus Station are bus stations and stops nearby. Subway (metro) stations in the city are João de Deus, Dom João II, Santo Ovídio, Park Morro and São Bento. There are also car rental companies such as Avis on Avenida da Boavista 918, Sado Rent on Rua do Campo Lindo, WOW on Avenida da Boavista 992, Atlanstisrent on Rua de Santa Catarina 1020, Parcours on Rua António Bessa Leite 1204, Turiscar on Rua de 5 de Outubro 412, Guerin on Avenida da Républica N 716, Option Oporto on Rua da Constituição 349, Activerent on Avenida da França 194, Ecodrive Solutions on Rua do Doutor Alfredo Magalhães 114, Grupo Edmd on Rua António Bessa Leite, Finlog on Avenida Vasco da Gama 780, Europcar Pq Luis I on Luis I Pq de Estacionamento Ponte D Rua do General Torres S N, Sixt on Avenida da Boavista 1203, Pq Luis I on Rua Cabo Simão 52, Greenbus on Rua Aleixo da Mota 86 Entrada B, Madlobos on Rua de Santa Catarina 672 and others. We also give tips on which companies offer rental cars in Vila Nova de Gaia Municipality.
Visiting and sight-seeing in Vila Nova de Gaia? Some suggestions and tips on, activities, places, events, attractions, destinations, experiences and museums in the town that are worth a visit during your stay. Amusements parks, water parks and theme parks in and surrounding the city are Perlim and Feira Gondomar. Zoo Santo Inácio, Estação Litoral da Aguda, Maia Zoo and Sea Life are aquariums, safari parks, zoos, tropicariums, tropical houses and terrariums close to the city. Like golf? Want to try out the local golf courses? Golf courses that are close to the city are e.g. Citygolf – Golf Porto 7 km, Oporto Golf Club 16 km, Golf Quinta do Fojo 2 km, Vale Pisão 19 km and Miramar Golf Club 8 km. Want to visit the local markets? Make a stop at Market Ferreira Borges, Market Bolhão, Flea market Vandoma and Market of São Sebastião.
Nearby destinations, Vila Nova de Gaia
Find the best car hire and cheapest car rental in airports nearby: Hire Cars Porto Airport, Cheapest Hire Cars Braga Airport and Car Rental Viseu Airport. We have an easy and safe booking system of rental cars online in Vila Nova de Gaia. Rent a car in cities in the region: Rent a Car Cheap Porto, Car Hire Felgueiras, Compare Hire Cars Rio Tinto, Ermesinde and Maia.
Car rental companies in Vila Nova de Gaia, Portugal
Avis, Hertz, Europcar, Budget, Sixt, Thrifty, National, Enterprise, Alamo, Dollar, Keddy By Europcar, InterRent, Payless, Firefly, Flizzr, Surprice, Goldcar, Rhodium, Hertz Dream Collection and Autoclick are the companies we compare in the city and in the region to find the best price. You can usually find the largest selection at airports such as Porto Francisco Sá Carneiro Airport, Viseu Gonçalves Lobato Airport, Vila Real Douro Airport and Braga-Palmeira Airport. The large companies usually have offices adjacent to the airport.
Car Hire & Rent a Car Vila Nova de Gaia Customer Reviews & Feedback