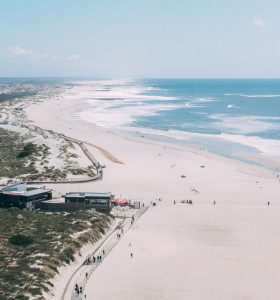 We have an easy and safe online booking of rental cars. Car hire where every cost is included, no hidden fees and free cancellations/amendments up to 24 hours before you are supposed to pick up the car. Search and choose destination, search for country, city etc. and choose from the list. Rental cars at Aveiro's train stations (Aveiro station) travel centre and airports like Coimbra Airport, Viseu Airport, Porto Airport and Monte Real Air Base, ZAV and ferry terminals and ports (Aveiro and Port of Aveiro).
Comparison of rental car and car hire from several businesses in the city Aveiro, Portugal. Find the best prices for rental cars online. Comparing prices online can be very profitable, many smaller companies can only be booked on site. When you are looking for rental cars we compare these companies; Hertz on Avenida da Força Aérea 67 Sá Barrocas, Europcar on 213 Avenida Doutor Lourenço Peixinho, Turiscar on Rua Doutor Francisco Ferreira Neves 31, Ecomobile on Rua de Anadia 16, Iberocar on R Eng Amaro da Costa 30 C Forca, Aveirent on Cais do Alboi 4, Europcar on Rua Hintze Ribeiro 27, Avis on Avenida Doutor Lourenço Peixinho 350, all with offices on site or in Aveiro.
Aveiro is located in the municipality Aveiro Municipality, Aveiro district, Portugal and is a city. It is the county seat in the region. It is the 1th largest town/city when it comes to inhabitants in the region and the 17th largest city/district in Portugal. The population of the city is about 54 200 in 2015. Read more about what the city has to offer when it comes to experiences and which companies are located in Aveiro Municipality and the country. The community/city is located about 19 MASL. Smaller villages, communities and suburbs nearby are Gafanha da Nazaré, Vilar do Paraíso, Valbom, Arcozelo, Canelas, Esgueira, Esgueira, São Tiago, Mataduço, Vilar and Alumieira. Larger neighbouring cities/communities are Porto (c. 249600 pop), Coimbra (c. 106600 pop) and Vila Nova de Gaia (c. 70800 pop). We also give tips on which companies offer rental cars in Aveiro Municipality.
Wondering what there is to see and do in Aveiro? Here are a few suggestions on activities, attractions, museums, events, destinations, places and experiences that are worth a visit during your holiday in the city. Casa Gafanhoa, Museum of Aveiro – Santa Joana, Museum of Cidade de Aveiro, Salinas Aveiro and Ecomuseu Marinha da Troncalhada are located nearby. Maybe a day at the museums and art galleries of the town? Parks, green areas and plantings worth visiting for recreation and relaxing are Parque Dom Pedro Infante, Park Santo António and Park Rossio. Chapel of Senhor das Barrocas, Cathedral of Aveiro ou Church of São Domingos and Church of Convento do Carmo e o seu recheio are notable churches or cathedrals close by.
Shopping at a mall? Maybe at Aveiro Shopping Center, Forum Aveiro, Aveiro Retail Park and Commercial Centre Glicinias Jumbo! Statues and monuments of interesting historical events and people like Monument to the Mártires da Liberdade, Monument to the Ovo Mole, Statue of Dr. Alberto Souto and Monument to the Mortos da Grande Guerra. Largo do Dr. Jaime Magalhães, Largo da Praça do Peixe and Praça Marquês de Pombal are notable large open spaces and squares which are located in the central parts of town. Spend a day tasting wine! Nearby wine producers and vineyards are, Mário de Sousa Ferreira, Caves Altoviso Vinícola do Passadouro and Companhia das Quintas-vinho. If you are travelling with children and want to visit an amusement park, water park or theme park, you have these options; Parque Aquático Vaga Splash and Minigolfe da Costa Nova. Stadium Municipal de Aveiro are located nearby if you want to watch sports or go to a concert. Cultural centres such as Casa da Cultura de Ílhavo are located close to the town centre.
Nearby destinations, Aveiro
Find the best car hire and cheapest car rental in airports nearby: Compare Rental Cars Coimbra Airport, Compare Hire Cars Viseu Airport and Hire Cars Porto Airport. Compare car rentals for a week, one month, one day, as many days as you wish, long-term, weekend or a year in Aveiro. Rent a car in cities in the region: Cheap rental cars Espinho, Cheapest Car Hire São João da Madeira, Cheap car rental Ovar, Ílhavo and Feira.
Car rental companies in Aveiro, Portugal
Avis, Hertz, Europcar, Budget, Sixt, Thrifty, National, Enterprise, Alamo, Dollar, Keddy By Europcar, InterRent, Payless, Firefly, Flizzr, Surprice, Goldcar, Rhodium, Hertz Dream Collection and Autoclick are the companies we compare in the city/country. You can usually find the largest selection at airports such as Porto Francisco Sá Carneiro Airport, Viseu Gonçalves Lobato Airport, Monte Real Airport and Coimbra Bissaya Barreto Airport. The large companies usually have offices adjacent to the airport.
Car Hire & Rent a Car Aveiro Customer Reviews & Feedback