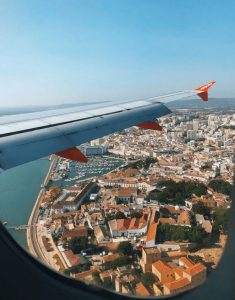 Easy and safe online booking for rental cars. Search for a city, airport etc. and choose a pick up location. The search will look for all types of models. Rental cars are available at Faro's travel centre, train stations (Faro, Bom João, Estação de Olhão and Almancil-Nexe) and airports like Faro Airport and Portimão Airport, FAO and ports/ferry terminals like Port of Faro. Car hire where every cost is included, no hidden fees and free cancellations/amendments up to 24 hours before you pick up the car.
Find the best prices for rental cars online. Comparing prices online can be very profitable, many smaller companies can otherwise only be booked on site. Comparison of rental cars and car hires from several businesses in the city of Faro, Portugal. When you are looking for rental cars we compare these companies; Amoita on Rua Samuel Gacon 421, Travelrent on Rua Bento Jesus Caraca 95, Hire Car 4 Less on Aeroporto, Auto Virgem on Estrada do Aeroporto, Interrent Aeroporto on N125 Aeroporto, YES on Estrada do Aeroporto Park 4 Row H Edificio Yor Car 8000 000 Airport, Europcar Airport on Aeroporto de Apt 2024, Ourique on Estrada Nacional 125 330a, Budget on Aeroporto do Montenegro, You Drive on Aeroporto de P4 Ed Yor Car, Realcar Bluealliance on Avenida 5 de Outubro 19, Avis on Estrada do Aeroporto Monte Negro, to See on Largo da Estação, Algarve Algarve on Estrada do Aeroporto Park 4 Row F, Hertz on Estrada do Aeroporto, Goldcar, Drive4miles on Rua do Bocage 126, Best Deal on Quinta do Eucalipto 124 Monte Negro, all with offices on site or in Faro.
Faro is a city in the municipality, Faro Municipality, Faro district, Portugal. It is the county seat in the region. 1th largest city/town when it comes to inhabitants in the region and the 27th largest district/town in Portugal. Regardless of how long you are staying the city there are things to experience and do. Small villages, communities and suburbs nearby are Vila Real de Santo António, São Brás de Alportel, Silves, Almancil, Estômbar, Lejana de Cima, Panasqueira, Vale de Carneiros and Garganta. With a population of around 41 400 people in 2015. The town/city is located about 15 MASL. Larger surrounding cities/communities are Portimão (c. 38500 pop), Olhão (c. 29200 pop), Loulé (c. 23100 pop) and Laranjeiro (c. 20500 pop). Bus stations and bus stops in the city are Bus station and taxi station in Faro and Terminal bus station and taxi station in Olhão. Nearby are also car rental companies like Thrifty on Aeroporto de Montenegro, Yorcar on Montenegro, Cars on Estrada do Aeroporto Edificio Yorcar Algarve Service at Airport Carpark 4, Firefly on Rua Henriques Fernandes Serrao 31c, Visacar on N125 10 423, Hertz Aeroporto on Aeroporto, Europcar on Estrada do Aeroporto Montenegro, Thrifty Aeroporto on Aeroporto, Airport, Topautoverhuur on Rua Professor Doutor Egas Moniz 205, Air Auto on Rua Samuel Gacon 421, Drive On Holidays on Rua Professor Doutor Egas Moniz 16, Turisprime on N125 10 330 Montenegro, Europcar on Aeroporto de 8005 999, Auto Rent Algarve on N125 10 7, Sixt on Aeroporto Internacional de Arruamento D Ed Sixt, Autoclick on Montenegro Estrada do Aeroporto N 322 A, ACE on Terminal 1, Airport York Car on Estrada do Aeroporto Park 4 Row H Edificio Yor Car Airport, Auto Rent Algarve Airport on Estrada do Aeroporto Ed Yor etc. Find out more about the car hire companies in Faro Municipality.
Suggestions and tips on what to do in the city Faro, attractions, places, events, museums, experiences, activities and tips on destinations to visit during your stay. do you need a car for a golf trip? Golf courses close to the community are Vila Sol Golfe Clube 16 km, Vale do Lobo Ocean Golf Course 11 km, Pinheiros Altos Golf Course 7 km and Golfe Laranjal 8 km. Aquashow, Karting Almancil and Paintarena are theme parks, water parks or amusement parks nearby. If you are looking for experiences and activities for the family. Music, plays and shows in the town centre? We recommend Theater das Figuras and ACTA – A Companhia de Theater Algarve. Located within walking distance.
Nearby destinations, Faro
Find the best car hire and cheapest car rental in airports nearby: Rent a Car Faro Algarve Airport and Car Rental Portimão Airport. Compare the number of days you want, whether that be a week, weekend, rent for a day, a year, a whole month or a long-term rental in Faro. Rent a car in cities in the region: Cheap Car Hire Portimão, Hire a Car Cheap Olhão, Rental Cars Loulé, Laranjeiro and Lagos.
Car rental companies in Faro, Portugal
When you are looking for rental cars we compare these companies; Avis, Hertz, Europcar, Budget, Sixt, Thrifty, National, Enterprise, Alamo, Dollar, Keddy By Europcar, InterRent, Payless, Firefly, Flizzr, Surprice, Goldcar, Rhodium, Hertz Dream Collection and Autoclick, all with offices on site or in the region. You can usually find the largest selection at airports such as Faro Algarve Airport and Portimão Airport. The large companies usually have offices adjacent to the airport.
Car Hire & Rent a Car Faro Customer Reviews & Feedback